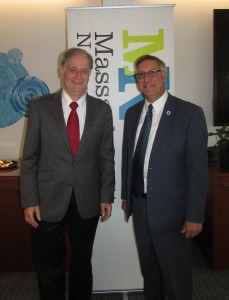 On Tuesday, October 1, MNN hosted a members-only Policymaker Roundtable with Chairman Mike Rodrigues of the Senate Ways and Means Committee of the Commonwealth of Massachusetts.
Chairman Rodrigues covered several legislative priorities that are being considered this session in which nonprofits across the Commonwealth are actively engaged, including: education reform, transportation, climate change, substance abuse disorder, and more. The Chairman in particular focused on the FY20 state budget, which included historic spending for education and a strong investment in the state's Rainy Day Fund.
The Roundtable was an opportunity for MNN members in attendance to inform the Chairman of their respective nonprofits' missions, and to ask candid questions on the policy areas that impact their organizations.
Thank you to all attendees of the Roundtable. A special thank-you to Chairman Rodrigues, his staff, and to Policymaker Roundtable Sponsor Comcast NBC Universal.
Biography
Chairman Rodrigues was elected to the Massachusetts State Senate in 2010, and serves the First Bristol and Plymouth District, which includes Westport, Fall River, Freetown, Lakeville, Rochester, Somerset, and Swansea. He was appointed as Chair of the Senate Committee on Ways and Means, as well as the Vice Chair of the Senate Committee on Steering and Policy for the 2019-2020 legislative session.
In the 2017-2018 session, he served as Senate Majority Whip, Chairman of the Senate Committee on Ethics, and Vice Chairman of the Senate Committee on Redistricting, and previously served as the Chair of the Joint Committee on Revenue.
Prior to being elected to the Senate, the Chairman served 14 years in the House of Representatives, where he chaired the Committee on Commerce and Labor, the Committee on Labor and Workforce Development, and the Committee on Consumer Protection and Professional Licensure. He also served on the Committee on House Ways and Means.
The 2019 Policymaker Roundtable series is sponsored by Comcast NBCUniversal.