Each year, the MNN Annual Conference convenes one of the largest gatherings of nonprofit professionals in the state. This year's theme centers on the nonprofit sector's incredible ability to inspire and create change. The event will highlight the sector's role in encouraging society to redefine what has always been. Nonprofits have an incredible power to make innovative ideas a reality, and in turn, making the world a more compassionate, equitable place. Over the course of the day, the provided lineup will strive to continue pushing the boundaries of what's possible.
Registration Open
Registration is now open for the 2023 Annual Conference, Idealism in Action! The 2023 Conference will be held on October 19, 2023 at the DCU Center in Worcester.
Register below for a day of thought-provoking workshops, ample peer networking opportunities, and an incredible keynote session. Grab your tickets before space runs out!

Keynote Panel
The keynote session for the MNN Conference, "Promoting Inclusion and Combating Hate: What Nonprofits Can Do", will explore innovative strategies to break down barriers, build connections, and promote respect for all people. Panelists include moderator Orlando Watkins, Vice President and Chief Program Officer at The Boston Foundation, Josh Kraft, President of the New England Patriots Foundation, Tanya Neslusan, Executive Director of MassEquality, Vanessa Otero, Executive Director of the Healing Racism Institute, and Tuyet Tran, Executive Director of the Southeast Asian Coalition of Central Massachusetts. Learn more about the panel and its participants here.

Conference Workshops
The full list of workshops is now live! Thank you to all those who sent in proposals, we received so many incredible submissions for 2023. This year's lineup expands on some of the most innovative ideas in the sector today. In addition to the traditional workshop sessions, there will be an Expert Roundtables segment, where presenters can share their expertise in an interactive, small-group format.
View the workshops and roundtables you'll find at this year's event here.
Lifetime Achievement Awards
Each year during the conference, MNN presents the Lifetime Achievement Awards, given to two recipients who have demonstrated outstanding nonprofit service throughout their career. Vanessa Calderón-Rosado, Ph.D., CEO of Inquilinos Boricuas en Acción (IBA), and Beth Chandler, President and CEO of YW Boston, will be the recipients of the 2023 Awards. Read more about their incredible contributions to the sector here.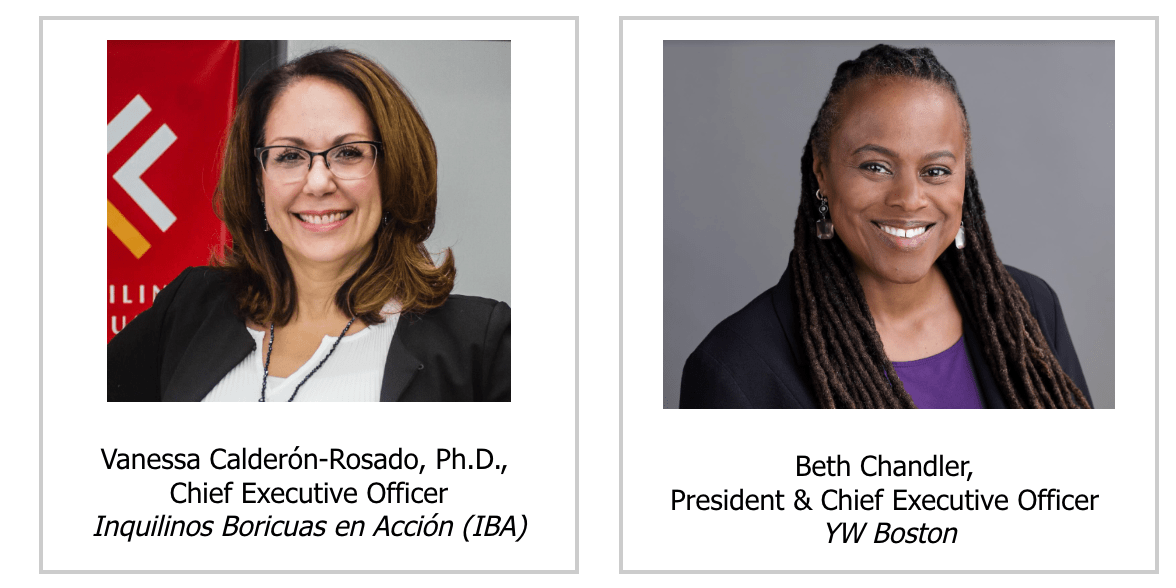 Call for Sponsors 
We invite you to become a sponsor for the 2023 Conference. Conference sponsorship is available this year at four different levels. To learn more about what each level entails, visit this page. Sign-up to become a sponsor by filling out the form here.
To learn about other sponsorship opportunities, click here.
---
For a recap of our 2022 Conference, visit this page.
For questions on the conference or sponsorship, please contact MNN's Programs and Services Manager, Clare Ladd, at cladd@massnonprofitnet.org.