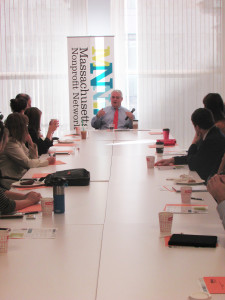 Massachusetts Secretary of Administration and Finance Michael Heffernan addressed a room full of members at our Policymaker Roundtable on Monday, November 20 at the NonProfit Center in Boston. Nonprofit directors and staff joined for a candid conversation on the successes of his office as well as the challenges that remain ahead.
A Massachusetts native with 30 years of experience in the for-profit and public sectors, Secretary Heffernan gave an overview of the scope and work of expansive Executive Office of Administration and Finance, which includes overseeing and implementing a state budget of nearly $40 billion, providing guidance on the economy to the Governor, and managing the state agencies responsible for revenue collection, information technology, human resources, procurement, and state facilities. Secretary Heffernan spoke on his agency's priorities, including finding outcomes-based, cross-cutting solutions for the Commonwealth's fiscal issues as well as ensuring the scope of services extends to all parts of Massachusetts.
Join MNN as a nonprofit or affiliate member to get access to exclusive benefits like Policymaker Roundtables, state- and federal-level advocacy updates and advice, and opportunities to grow and network.