Tell everyone why #nonprofitsmakesense! 
Each year, the #nonprofitsmakesense campaign engages hundreds of social media partners, generates 1,600+ posts on Twitter, Facebook, and Instagram, and results in 1.7 million+ impressions. Join the #nonprofitsmakesense movement and let your voice be heard!
The campaign will kick-off in May and take place in the four weeks leading up to Nonprofit Awareness Day, presented by Citizens Bank. As a #nonprofitsmakesense partner, you'll receive social media tips, tricks and sample language to help you engage in the campaign.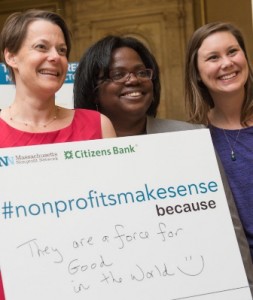 Here's how you can join the social media movement:
Sign-on as a partner (this is not required but if you sign-on before Monday, June 5th, we'll send you tips and materials to help you get engaged in the campaign).
Encourage your colleagues and social media connections to join the movement!
Connect with MNN on Twitter, Facebook and Instagram & connect with presenting sponsor Citizens Bank on Twitter and Facebook