The Leadership Excellence Award recognizes a nonprofit chief or senior executive whose strategic vision, passion, ethical integrity, innovation, perseverance and collaborative style has led to a strong record of extraordinary organizational results. The finalists for the Leadership Excellence Award are:
Eileen Davis, Call2Talk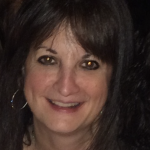 Eileen Davis is the Director for Call2Talk, a confidential mental health and emotional support call line that assists people through stressful times, helping the despondent and those who may be suicidal. She has devoted the last 30 years to caring for people who are lonely and troubled or at risk for suicide. Call2Talk is just over three years old and has grown from serving Middlesex County and the Metrowest region to serving the entire state. Call2Talk received only five calls in its first month but now takes almost 30,000 calls per year. Eileen brings her honest, transparent, charismatic style to the role of Chair of the MetroWest Region Coalition for Suicide Prevention, which has over 150 members.
Andre John, Massachusetts Youth Committed to Winning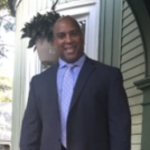 Andre John is the Executive Director of Massachusetts Youth Committed to Winning (MYCW), a year-round, out-of-school program for low-income, at-risk African-American youth in grades 3 to 12. Since 2000, MYCW has served more than 2,5000 youth, with its largest cohort of 400 enrolling in 2016. 80% of participants live below the poverty line, and 90% come from single-parent homes, but 93% graduate high school and 80% enter college with MYCW's support. MYCW seeks to inspire, educate, and prepare its participants  with the necessary skills to become academic achievers, confident student-athletes, and effective leaders. Under Andre's leadership, MYCW has expanded its service area, which now includes Dorchester, Mattapan, Roxbury, Taunton, and Brockton. Andre sets an organization-wide example as a caring, consistent, authentic presence in children's lives.
Giles Li, Boston Chinatown Neighborhood Center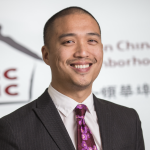 Giles Li is the Executive Director of Boston Chinatown Neighborhood Center (BCNC), the largest nonprofit social service provider for Asian American and Asian immigrant families in Greater Boston. Supporting over 2,600 individuals each year at four locations in Boston and Quincy, the mission of BCNC is to ensure that the children, youth, and families it serves have the resources and supports they need to achieve greater economic success and social well-being. To address these needs, Giles spearheaded a creative placemaking campaign to bring an arts center to Chinatown. Giles also partnered with Bunker Hill Community College to make the new arts center the school's satellite location. As result of Giles' tireless work and collaborative efforts, BCNC opened the arts center in 2017.
Vincent Strully, Jr., The New England Center for Children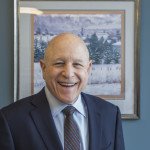 Vincent Strully, Jr. founded The New England Center for Children (NECC) more than 40 years ago, and in that time it has grown to transform the lives of children with autism worldwide through education, research, and technology. NECC has helped more than 11,000 children in 17 countries, graduated more than 1,300 master's level teachers and behavior analysts, and grown its staff to more than 1,200. Vincent's strategic vision and innovation in autism education has brought NECC's programs into classrooms worldwide, including at a second campus in the United Arab Emirates. Driven by his dedication to improving the lives of children with autism and their families, Vincent has taken creative and strategic approaches to fundraising, HR, research, and technology, resulting in remarkable growth and achievement.
David Waters, Community Servings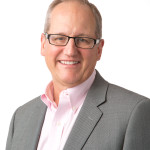 David Waters is the CEO of Community Servings, a food and nutrition program providing services to individuals and families living with critical and chronic illnesses. Under David's leadership, Community Servings has evolved from a neighborhood meals program delivering dinner to 30 people to a regional program providing 15 medically-tailored meal plans to 1,850 people in 20 Massachusetts communities. An advocate for integrating accessible, medically-tailored meals into the healthcare system, David has formed partnerships with leading healthcare payers and providers to better link clinical care and social services, designing some of the country's first health insurance contracts for prescription meals. In addition, David has expanded the organization to provide nutrition education, job training, and one of Boston's largest volunteer programs.