The Excellence Award in Collaboration recognizes the lead organization that was the catalyst for an effort by two or more nonprofit organizations. These organizations partnered to address a compelling problem that could not have been solved as effectively by a single organization. The finalists effectively defined roles, allocated combined resources, utilized efficient communication, and implemented a clear process for accountability to achieve meaningful and measurable outcomes.
The finalists for the Excellence Award in Collaboration are:
ACT Lawrence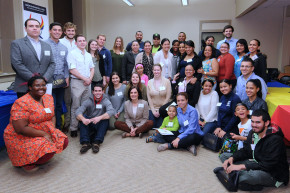 ACT Lawrence (fka Arlington Community Trabajando) is a Latina led Community Development Corporation (CDC). Founded in 1996, its mission is to achieve social and economic justice by empowering low to moderate income populations in Lawrence. In 2015, ACT Lawrence and Merrimack College joined forces to expand their financial capability services to help meet their goals of increasing financial stability for low income and underserved people in Lawrence, promoting financial inclusion and healthy financial behaviors, providing financial coaching, housing counseling and homebuyer education, and creating a pool of trained financial coaches to help clients reach their financial goals. Through their collaborative efforts in 2016, they served 1,600 clients with their many programs.

Falmouth Service Center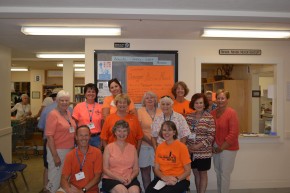 Falmouth Service Center, Inc. (FSC) mission is to ease stress, reduce hunger, and improve the quality of life for their neighbors in need. FSC provides fresh healthy food, access to SNAP, fuel assistance, health insurance access, clothing, and supported referrals to many partner organizations. FSC collaborates with other agencies to provide integrated services which bring health, wellness, and education to many of their mutual clients. Recently, FSC joined forces with WE CAN to offer monthly legal consultations and financial empowerment sessions to residents as a part of a safety net of services. FSC's strength comes from its dedicated, caring support of a volunteer force of 450 plus. This community of caring is far reaching and lends itself to the amazing collaborative spirit that permeates every one of their programs.

Language Opportunity Coalition
The Language Opportunity Coalition is a collaboration between three organizations: Massachusetts Educators of English Language Learners (MATSOL), Massachusetts Association for Bilingual Education (MABE), and the Massachusetts Foreign Language Association (MaFLA). The Language Opportunity Coalition brings together organizations that support the Seal of Biliteracy in Massachusetts, which recognizes high school graduates who speak, listen, read, and write proficiently in a language in addition to English. The Seal of Biliteracy encourages long-term language study, rewards biliteracy, and provides evidence to universities and businesses that students have attained this important 21st century skill. This collaboration brought together English as a second language (ESL), bilingual, and world language educators across the state who developed a Seal of Biliteracy Pilot Program, which resulted in more than 300 Seal of Biliteracy awards in 2016, the first year of the pilot.

Open Table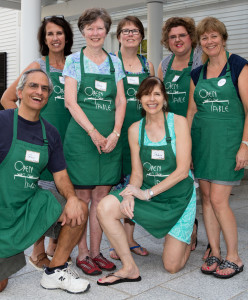 Open Table's mission is to provide healthy food, friendship, and support to those in need while respecting their privacy and dignity. It offers weekly community supper programs and food pantries in Concord, Maynard, and Sudbury, serving more than 300 guests from 80 zip codes. Founded in 1989, Open Table provides a welcoming community of support and assistance to families and individuals, including many seniors and children, and are open to all, regardless of circumstance. To deliver these services, Open Table collaborates with other organizations, including Dignity in Asylum, which provides support to recent asylum seekers; MinuteMan Arc and NuPath, which offer work and learning opportunities for adults with developmental disabilities; Gaining Ground, a local community farm which grows food to donate to food pantries; and Maynard's Council on Aging, which provides programs for seniors.