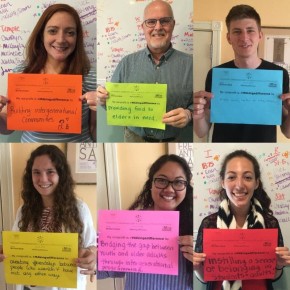 Sign up as a campaign partner for our annual social media movement, #MAkingadifference, in the weeks leading up to the virtual Nonprofit Awareness Day: A Celebration of Nonprofit Excellence presented by Citizens Bank on June 24, 2020 at 10:00 am. 
The social media campaign will use stories, images, videos, and stats to tell our communities and elected officials how Massachusetts's nonprofits are #MAkingadifference. Every year, the campaign generates millions of impressions across multiple platforms. This is a great way to increase your organization's visibility, and spread the word about the work of the sector!
The #MAkingadifference campaign will kick off on Monday, May 18, and continue in the weeks leading up to Nonprofit Awareness Day on June 24. As a #MAkingadifference partner, you will receive social media tips, tricks, and sample language to help you engage in the campaign.
New this year: Submit a 1-minute homemade video about the important mission of your nonprofit and how it's shifted to meet the evolving needs of communities given the COVID-19 pandemic. MNN will select a video to share live during the virtual Nonprofit Awareness Day on June 24!
Click here to sign on to the campaign