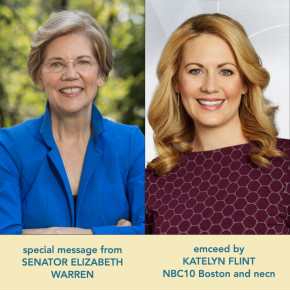 Thank you to everyone who attended the virtual Nonprofit Awareness Day: A Celebration of Nonprofit Excellence presented by Citizens Bank on Wednesday, June 24, 2020 at 10:00 am. Nonprofit Awareness Day featured a special message from Senator Elizabeth Warren and was emceed by Katelyn Flint, morning reporter for NBC10 Boston and weekend anchor at NECN.
Members: watch the event recording here. Use the member password to access the page (reference the latest edition of MemberNews for the password).
MNN was pleased to honor the six 2020 Nonprofit Excellence Award winners:
Excellence in Advocacy – Massachusetts Business Alliance for Education
Excellence in Innovation – Dudley Square Neighborhood Initiative (DSNI)
Excellence in Leadership – Mary Beth McMahon, President and CEO, Special Olympics Massachusetts
Excellence in Partnership – Tech Goes Home
Excellence by a Small Nonprofit – The North Shore Alliance of LGBTQ Youth
Excellence by a Young Professional – Joy Murrieta, Co-Founder and Executive Director, Main IDEA Youth & Arts
Click here to see who the 27 finalists were this year.
Attendees can sign in to the Attendee Portal (only available for registered attendees), which contains the event's recording, a digital program book, interviews with the six Excellence Award winners, and all #MAkingadifference video contest submissions. The password for the portal was emailed to all registered attendees.