Julianne Boyd, Artistic Director of the Barrington Stage Company in Pittsfield, MA, and Gladys Vega, Executive Director of La Colaborativa, in Chelsea, MA are the 2021 Lifetime Achievement Award winners!
The awards will be presented at the annual conference on October 6th and October 7th. Attendees can watch the winners live or the recordings on their own time to hear Gladys Vega and Julianne Boyd speak and listen to exclusive interviews with both our winners to learn more about their incredible work in the nonprofit sector.
---

Want to save even more? Register five or more people from your organization and save $20 per ticket! Learn more and register here to take advantage of these bulk ticket discounts.
Please contact Madeleine Morgan at mmorgan@massnonprofitnet.org or 617-330-1188 x281 with any questions.
---
Read more about Julianne Boyd and Gladys Vega below.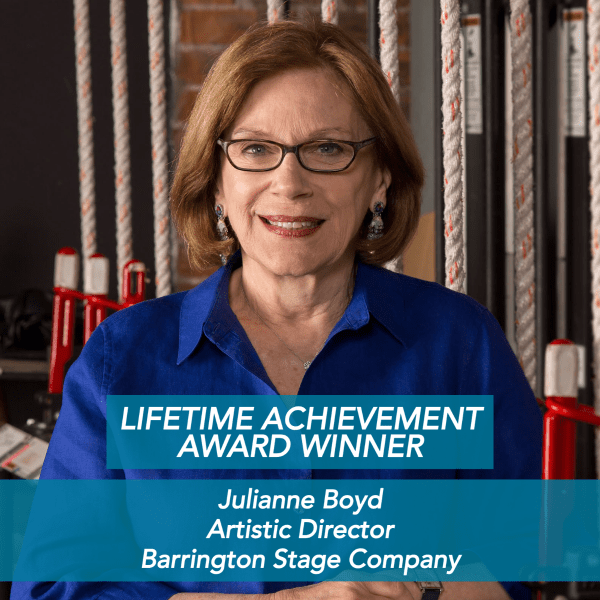 Julianne Boyd founded the Barrington Stage Company in January 1995. She has directed many productions at BSC, including the acclaimed production of Company starring Aaron Tveit and the world premiere of Christopher Demos-Brown's American Son, which won the Laurents-Hatcher Award for Best New Play of 2016 by an emerging playwright Other productions include the world premieres of Mark St. Germain's Dancing Lessons, Dr. Ruth, All The Way and Best of Enemies, and the critically acclaimed revival of Goldman and Sondheim's Follies. In 1997 she directed BSC's smash hit production of Cabaret, which won six Boston Theatre Critics Awards and transferred to the Hasty Pudding Theatre in Cambridge for an extended run.
Boyd conceived and directed the Broadway musical Eubie!, a show based on the music of Eubie Blake which starred Gregory Hines and garnered three Tony nominations. She also co-conceived and directed (with Joan Micklin Silver) the award-winning Off Broadway musical revue A…My Name Is Alice (Outer Critics' Award) and its sequel A…My Name Is Still Alice.
In 2000 Ms. Boyd created the Playwright Mentoring Project, BSC's program for disenfranchised youth, that won the prestigious Coming Up Taller Award in 2007. This award, given by the President's Committee on the Arts and the Humanities, is the nation's highest honor for after school and out of school programming. In 2015 the Playwright Mentoring Project also won the Commonwealth Award for Creative Youth Development.
From 1992 to 1998 Ms. Boyd served as President of the Society of Stage Directors and Choreographers, the national labor union representing professional directors and choreographers in the U.S. She holds a Ph.D. in Theatre History and Criticism from CUNY Graduate Center.
---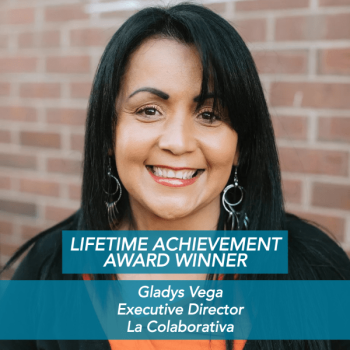 Gladys Vega is the Executive Director of La Colaborativa, which empowers Latinx immigrants to enhance the social and economic health of the community and its people; and holds institutional decision-makers accountable to the community.
Gladys Vega has dedicated 30 years of service to the City of Chelsea and the Chelsea Collaborative, which she joined in 1990 – just two years after its founding. She took on increasing responsibility with each passing year moving from receptionist to community organizer to Assistant Executive Director and ultimately becoming the Executive Director in 2006.
Gladys has worked as an organizer and an advocate to ensure that the Latino community has a role in determining the ways it's needs and concerns are addressed. She believes that empowerment of the individual leads to empowerment of the community and that social action is the vehicle an empowered community can use to achieve its goals.
Gladys is the architect of most of the Collaborative's community coalitions. She has played leadership roles in organizing for immigrants' rights, welfare rights, tenants' rights, open space and the environment, multicultural and anti-racism programs, and in numerous grassroots campaigns.
she is not only a successful community organizer, but also one of Chelsea's most prominent and important community leaders, receiving citywide, statewide, and national accolades for her leadership. In 2010 she was awarded a Barr Foundation Fellowship which enabled her to travel to Haiti to participate in a learning journey with 11 other non-profit Executive Directors from Massachusetts.
In 2007, Gladys led the Chelsea City Council to make Chelsea Massachusetts' third sanctuary City. She was also a founding member of Centro Latino, the only direct service for Latinos in Chelsea at the time, and served as Board President of the organization for five years. Gladys has also served on the Chelsea Board of Health, United Way Committee, and as a Democratic Delegate for the National Convention in 2000. In 2007 and 2008, she was named as one of Massachusetts' top 100 most influential leaders. Gladys has been a guest speaker at the University of Massachusetts, Boston, Massachusetts Institute of Technology, Salem State School of Social Work, Boston University School of Social Work, Boston University Law School, and numerous national conferences.
Gladys was born in Puerto Rico and came to Chelsea with her family at the age of nine. Since that time, Gladys has made a lifelong commitment to the community in which she was raised. Being a mother of two has deepened her commitment to building a better future.