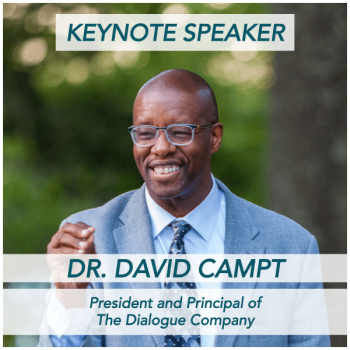 This year's conference will feature Dr. David Campt, Founder and Principal of The Dialogue Company. Dr. Campt will deliver remarks on the critical importance of dialogue within the nonprofit sector and how, together, we can build "A Bridge to Better." Join us on Tuesday, October 5th at 9:00 AM to launch this year's exciting event together!
Dr. Campt, often called "The Dialogue Guy," is a renowned expert in inclusion and equity, cultural competence, civic engagement, and intergroup dialogue. For more than 25 years, he has been sought by groups as a thought leader and keynote speaker.
Dr. Campt has worked with the U.S. military, The White House, global corporations, international organizations, higher education, professional associations, faith-based groups, and non-profits. He has authored many books, including The Little Book of Dialogue for Difficult Subjects (2007), Compassion Transforms Contempt (2020), and workbooks related to his signature White Ally Toolkit initiative, educating allies on engaging in transformative discourse about race and other polarizing conversations. Specifically, Dr. Campt's work on dismantling racism was featured by several prominent media outlets, including Think Progress, NPR, Bold TV, The New York Times, and The Daily Show with Trevor Noah.
Dr. Campt has a bachelor's degree in Computer Science from Princeton University and a master's degree in public policy from the University of California, Berkeley. His doctoral studies were also completed at UC Berkeley's urban planning department, where his dissertation focused on ways that social service administrators can modify their organizations to make them more responsive to African-American populations' cultural realities.
---

Want to save even more? Register five or more people from your organization and save $20 per ticket! Learn more and register here to take advantage of these bulk ticket discounts.
Please contact Madeleine Morgan at mmorgan@massnonprofitnet.org or 617-330-1188 x281 with any questions.