MNN is committed to supporting nonprofit organizations that are working on the front lines to ensure a fair and accurate census count in 2020. As trusted messengers, nonprofits play a particularly important role in ensuring that everyone–particularly those from historically under-counted communities–participates in this foundational civic exercise, the results of which shape the future of the Commonwealth for the next 10 years.
Below is a list of resources for nonprofits to use in census outreach and education.
Massachusetts Nonprofit Network
Register here. The webinar will provide an overview of specific strategies that nonprofits can use to actively work towards complete count efforts in their communities. The webinar will highlight best practices and work already occurring, paired with guidance and resources for action steps in the period before the census self-response period commences in March, lasting through Census Day on April 1, 2020. The presenters are Vatsady Sivongxay, Statewide Complete Count Coordinator, and Beth Huang, Director, Massachusetts Voter Table. This webinar is the second of three in a webinar series sponsored by Comcast NBCUniversal and presented by MNN.
Click here for a recording of the first webinar, "Setting the Stage: Preparing for the 2020 Census."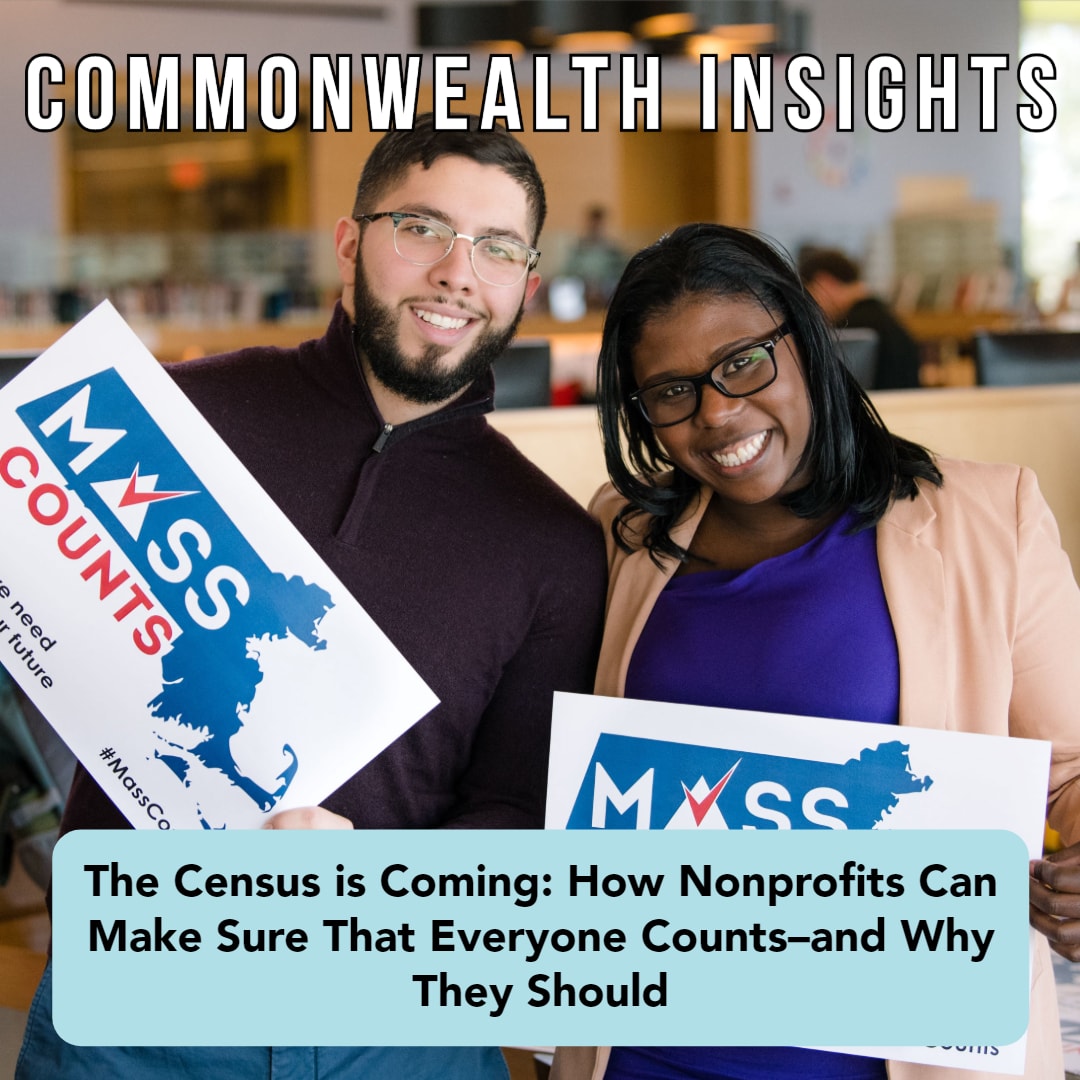 The Census is Coming: How Nonprofits Can Make Sure That Everyone Counts–and Why They Should. This report is a practical how-to guide for nonprofits to prepare for a full 2020 Census count. It features a checklist with key dates and steps, case studies of three Massachusetts-based nonprofits, talking points, and a list of resources including public and philanthropic funding available to support outreach around the Census.
Click here for a Comcast Newsmakers segment, "U.S. Census and Massachusetts Nonprofits."
Questionnaire Assistance Centers
Nonprofits with publicly-accessible computer labs, meeting rooms, or other spaces with internet access are encouraged to set up Questionnaire Assistance Centers (QACs) where people can complete their 2020 Census online and receive assistance from trained staff. Training and resources for nonprofits interested in hosting QACs is available through the Statewide Complete Count Committee. Submit an interest form here. Trainings to support nonprofits interested in setting up QACs are below.
Train-the-Trainers Workshops
The MIRA Coalition is holding train-the-trainers workshops throughout Massachusetts for community leaders, organizational staff, and volunteers working on Census outreach. Participants will: learn and share about tools and resources to develop actionable steps for stronger awareness and outreach campaigns for a successful 2020 Census; be prepared to talk and connect with residents you serve; receive information to help with setting up outreach programs; and build connections between organizations to seed collaboration.
Massachusetts Coalition for the Homeless Trainings

Join the Mass Coalition for the Homeless for 5 trainings statewide in 5 different cities during the month of February. These are trainings meant to bring together advocates, providers, community members, people with lived experience, Census Bureau staff, and local Complete Count Committee members to work on best practices and effective outreach and engagement strategies in order to assure a complete count of people experiencing homelessness for the 2020 Census. Questions? Contact Marwa Sayed at marwa@mahomeless.org
MassCounts
MassCounts is a grassroots coalition community-based organizations dedicated to ensuring a complete 2020 Census count in Massachusetts.
Census Counts
Get Out the Count Toolkit – contains information, ideas, and strategies nonprofits can use to partner effectively with local public officials, community leaders, and other organizations to get out the word about the 2020 Census.
Resource Library – searchable library of 2020 Census outreach and education, messaging, and digital organizing resources.
United States Census Bureau
The U.S. Census Bureau has multiple kinds of information kits and resources for nonprofits to use in outreach and education in hard-to-count communities. The Bureau is also seeking to hire trusted individuals to carry out Census efforts across the state.
Secretary of the Commonwealth of Massachusetts
Secretary of the Commonwealth Bill Galvin is the official Census Liaison for Massachusetts. MNN sits on the statewide Complete Count Committee that is overseen by the Secretary's office. The links below contain up-to-date information and resources from the Secretary's office.
Find Your Complete Count Committee – MNN encourages nonprofits to join their local Complete Count Committee through this tool. Complete Count Committees are established to increase awareness of and encourage participation in the 2020 Census.
Massachusetts 2020 Census Planner – In collaboration with the UMass Donahue Institute, this is an interactive map of Massachusetts that highlights different demographics and factors that will potentially affect how people will respond to the 2020 Census.
Massachusetts Census Equity Fund
The Massachusetts Census Equity Fund is a statewide funding initiative working to increase participation in the 2020 Census, specifically in communities that are at risk of being under-counted. The Fund provides grants for grassroots organizations working toward creating an accurate and fair count, as well as a learning community for partners. MNN sits on the organizing committee of the Fund.
Boston Indicators and The Boston Foundation
For questions or for more information on how your nonprofit can engage with the 2020 Census, contact Fernando Martinez at fmartinez@massnonprofitnet.org.