In partnership with the Highland Street Foundation, MNN is hosting a series of special forums dedicated to providing fresh perspectives on issues impacting the nonprofit sector.  See below to read about past events. Stay tuned for future events by signing up for our newsletter.
April 9, 2018: Special Forum with Mayor Marty Walsh
On Monday, April 9, 2018, Mayor of Boston Marty Walsh discussed his priorities as he started his second term as Mayor of the City of Boston. The program was be held at the Boch Center.
Mayor Walsh has been a friend and partner to the nonprofit sector, working to strengthen Boston schools, address housing issues, increase services for those suffering from addiction, and expand resources to support arts and culture.
Born and raised in Dorchester, Mayor Walsh is driven to ensure Boston is a place where anyone can overcome their challenges and fulfill their dreams.
March 16, 2017: Special Forum with David Grant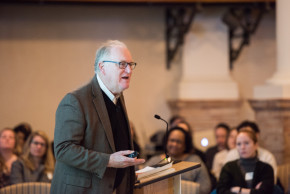 On Thursday, March 16th, over 200 nonprofit professionals joined MNN and the Highland Street Foundation for a special forum with David Grant, author of
The Social Profit Handbook
. During his talk, Grant discussed his innovative approach to assessment and measurement for nonprofits.
"We think measurement is about numbers," said Grant. "I want to shift our thinking. To measure what matters."
Grant also highlighted strategies for planning around a vision, how to avoid nonprofit leadership and staff burnout, and the importance of adaptation in an ever-changing nonprofit environment.
David Grant is the former president and CEO of the Geraldine R. Dodge Foundation in Morristown, New Jersey. His career has centered on innovative teaching and learning. In 1983, he and his wife, Nancy Boyd Grant, co-founded the Mountain School of Milton Academy, a semester-long, interdisciplinary environmental studies program in Vermont for high school juniors.
The special forum with David Grant is part of a speaker series presented by MNN in partnership with the Highland Street Foundation. The series focuses on bringing a variety of speakers to discuss emerging issues affecting the nonprofit sector.
December 5, 2016: Special Forum with Congressman Seth Moulton
On December 5th, 2016, Congressman Seth Moulton joined 150 nonprofit, community, and business leaders at the New England Center and Home for Veterans to reflect on his first term in Congress, the historic Presidential election, and his vision for the next term. This was the first of a four-part speaker series being presented by MNN and the Highland Street Foundation.
Congressman Moulton was elected to the 6th Congressional District of Massachusetts in 2014, Congressman Moulton has focused on economic growth for families and improving veterans' health care, and currently serves on the House armed Services, Budget, and Small Business Committees.
A war veteran, Congressman Moulton served four tours in Iraq as a Marine Corps infantry officer, including two tours as a platoon commander and two tours as a Special Assistant to General David Petraeus.  He left the Marines in 2008 with the rank of Captain.
For questions about upcoming events please contact Marta Hodgkins-Sumner, Director of Membership and Programs, at mhodgkins-sumner@massnonprofitnet.org.
Presented by:
Massachusetts Nonprofit Network
The Massachusetts Nonprofit Network (MNN) is the voice of the nonprofit sector, a statewide organization dedicated to uniting and strengthening the entire nonprofit sector through advocacy, public awareness, and capacity-building.
Highland Street Foundation
Founded in 1989, the Highland Street Foundation is committed to addressing the needs and concerns of children and families in Massachusetts and California. We direct our efforts to provide access and opportunities in the area of education, housing, mentorship, health care, environment and the arts.