Conference Registration Rates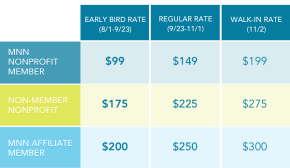 MNN Nonprofit Members save up to 40% on registration and for-profit registration is available exclusively to our Affiliate Members. Visit www.massnonprofitnet.org/join to join the network and save.
You could have up to half of your conference registration paid for! Find out if the Workforce Training Fund can cover a portion of your organization's cost.