Priscilla Kane Hellweg, Executive and Artistic Director of Enchanted Circle Theater in Holyoke, MA, and Darnell Williams, President and CEO of the Urban League of Eastern Massachusetts, were the 2019 Lifetime Achievement Award winners.
"We are pleased to honor Darnell and Priscilla for their inspiring careers and for their invaluable contributions to the state's nonprofit sector," said Jim Klocke, CEO of MNN. "Their lives of service have made indelible impacts on the lives of people across the Commonwealth."
The awards were presented at the annual conference on Wednesday, October 16, 2019, at the Sheraton Framingham and Conference Center.
Read more about Priscilla and Darnell below.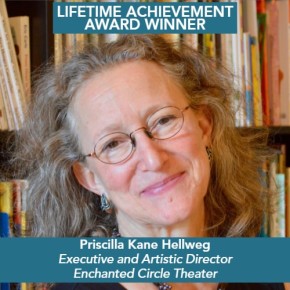 Priscilla Kane Hellweg is the Executive and Artistic Director of Enchanted Circle Theater, a nonprofit multi-service arts organization in Holyoke, MA, that integrates arts and education to engage, enhance, and inspire learning. Under Priscilla's direction, Enchanted Circle has become a regional leader in the field of arts integration. Enchanted Circle works in public school districts across Western Massachusetts and collaborates with over 60 community service partner organizations to develop work that bridges arts, education, and human services to chronically under-served communities, including youth in foster care, families in homeless shelters, and youth in residential treatment programs.
Priscilla earned her Bachelor of Arts from Hampshire College and professional theater training from the Provincetown Playhouse. Priscilla has created district-wide arts integration initiatives to enhance academic achievement for Holyoke, Amherst, Northampton, and Westfield Public Schools, and has collaborated on the development of several Teacher Training Institutes with numerous partners, funded by the National Endowment for the Arts, National Endowment for the Humanities, and Teaching American History grants.
Priscilla received the Champions of Arts Education Award from the Massachusetts Alliance for Arts in Education, and a Millennium Award from the National Guild of Community Arts Educators for her commitment to making quality arts education accessible to all. She was a finalist for MNN's 2019 Nonprofit Excellence Award in the Leadership category. Priscilla's manuscript, "Actively Engaged: Theater as a Dynamic Teaching Tool," is scheduled for publication in 2020 by the University of Massachusetts-Arts Extension Service.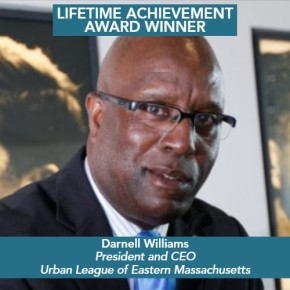 Darnell Williams is the President and CEO of the Urban League of Eastern Massachusetts, a  nonprofit that provides services and programs in education, career, and professional development and employment for African-Americans and other residents of color. Under Darnell's direction, the Urban League of Eastern Massachusetts hosted the National Urban League's Annual Conference in Boston in 2011 after a 35-year absence, paving the way for additional conferences for people of color to come to Boston.
Darnell earned his Master's degree in organizational development from Boston University after completing his undergraduate degree at American International College in Springfield, MA.  Prior to joining the Urban League, he was Manager of Management Recruitment and Development at Massachusetts General Hospital (MGH) as well as a Diversity Consultant in private practice. Darnell served as President of the Springfield Branch of the National Association for the Advancement of Colored People (NAACP) and as the President of the NAACP New England Area Conference.
Darnell was a contributing member to Boston's successful effort to win the 2004 Democratic National Convention. For his contributions within the Black community and the City of Boston, Mayor Thomas Menino presented him with the 2003 Community Service Award. Darnell received an Honorary Doctor of Laws from American International College and an Honorary Doctor of Humane Letters from Worcester State University.