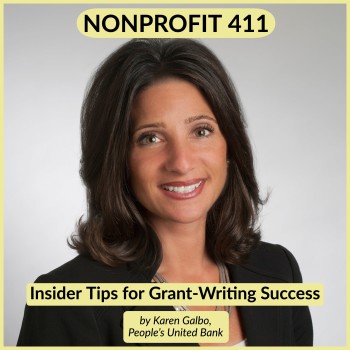 By Karen Galbo, Executive Director,VP; Foundation and Community Relations, People's United Bank
Being able to effectively compete for grants is a mission-critical endeavor for the nonprofit sector. Whether an organization is seeking funds to expand key programs, launch new initiatives, obtain necessary equipment or services, or hire additional employees, grants provide crucial financial support that allow nonprofits to fulfill their purpose.
Not surprisingly, seeking a grant can be a high-stakes situation! Constraints on time, resources, and know-how can make grant-writing challenging—and even intimidating—but there are strategies and approaches that make the process easier and more effective. Ultimately, the most successful grant proposals provide compelling, specific information; are clearly and concisely written; and align well with a funder's priorities.
Here are some quick tips:
Do Your Due Diligence!
Research is the most crucial part of the grant-writing process. The very first step, therefore, should be to understand what the funder is looking for. Visit the funder's website and study up on their focus areas and funding priorities, the size and levels of the grants they typically award, and other organizations they have funded recently. In addition, make sure your organization meets the minimum eligibility requirements for the grant you are applying for, and be sure to familiarize yourself with the application deadlines and submission process to ensure you can meet all criteria.
Be Clear and Concise
While it can be tempting to wax poetic about every detail of your nonprofit's history, mission, and efforts, grant writing is often a less-is-more endeavor: it is imperative to provide the requested information in a clear and concise manner. Be sure to convey your organization's purpose and how you plan to use the grant funding to further the mission and drive impact—but do so without including unnecessary details or irrelevant information.
Share Specifics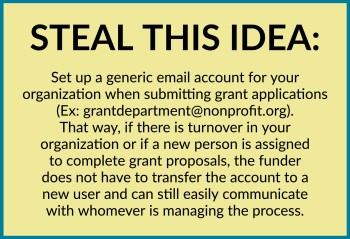 A successful grant application should contain both quantitative ("100 participants graduated from high school, and 95% were accepted into college") and qualitative data ("We were able to safely welcome students back into the classroom for in-person learning after COVID; parents indicated they felt confident in our health and safety practices"). Including outcome measurements that a funder may be looking for will help your grant proposal resonate with the reviewer. In addition, sprinkling in success stories—briefly—is a great way to provide a personalized view of the work your organization is doing. Talk to the program director(s) in your organization for key feedback that can help articulate these real-world results. Be sure to avoid industry jargon or abbreviations and acronyms that might be commonplace in your world, but unfamiliar to someone else.
Follow Directions!
Funders set up specific parameters for filling out and submitting grant applications and staying within those parameters is key. If they indicate that a certain section should be one to two sentences long, stick to that length; if they do not want you to repeat information in multiple sections of the application, honor that request; if they specify that you submit the grant application via a web portal (and not via email), be sure to do so.
Remember, grants are available for a reason: funders want to partner with worthy nonprofits to fund projects that will drive change and elevate communities. Following these tips will help position your organization as the perfect recipient for their funds.