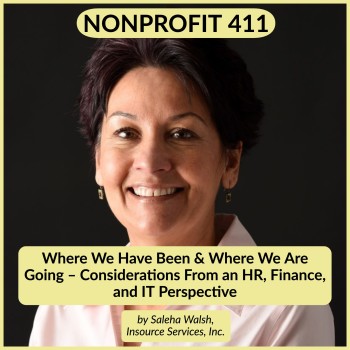 By Saleha Walsh, Vice President, Insource Services, Inc.
In this year of surreal change and anxiety, it can be a challenge to appreciate the progress and transformation many organizations are experiencing. As a firm that supports many nonprofits with their back-office business operations, we too were propelled into quick action a year ago and reflect on the trends we've seen as our clients adapt to this new reality.
The shift to a suddenly remote workforce and the events in the world has presented leaders with the dual challenge of stabilizing operations and rising to support employees as they juggle work/life balance. We hope sharing some of these trends will show you that you are not alone and may prompt you to consider some of these options at your organization.
Employer Challenges
Pivoting to remote operations and now, considering the office of the future (remote, traditional, hybrid), automating tools and processes
Providing more support for employee wellness and mental health
Proactively taking a stand on civic responsibility and exploring practices with a DE&I lens
Stabilizing operations in a time of uncertainty
Trends and Strategies
Different and more frequent employee check-ins
Town halls and issue forums
Deliberate connection – create "water cooler" time – chat, video, phone
Be the bearers of good news – positive updates, reassuring transparency
Reexamination of space and equipment, IT needs
Individual offices vs. congregate space considerations, what do you need, how do you want to invest your office dollars
Equipment needs review (copiers, phones, faxes – are they needed anymore?)
Reviews of IT system reliability and security, related policies
Reviewing computing needs for increasing applications (Zoom, Teams, etc.)
Incorporating collaboration tools into systems (SharePoint, Teams, Office 365, etc.)
Shift to cloud-based recordkeeping and investment in IT infrastructure
Increased IT security to avoid scams – multi-factor authentication, device monitoring
Staff security training
Showcasing and engaging staff
Creating affinity groups, DE&I educational opportunities (formal training, informal Read and Reflect sessions, or other opportunities for dialog)
Forming cross-organizational communication committees to address employee information needs and concerns
Providing increased employee support
Uptick in employee assistance programs (through disability carriers/free or standalone resources and training)
Expressing care and appreciation (thoughtful gifts mailed to employee's homes, etc.)
Intranet reboots
Redesigning benefits around new realities (meal delivery vs. pre-tax parking, etc.)
Reexamining traditional standards and tools of productivity
Considering flexible standard work hours and locations
Modifying policies to accommodate remote or hybrid work requirements (security, childcare, reimbursement standards, etc.)
Work as a place of purpose and productivity vs. a location
Automation of financial processes – implementation of Bill.com, Expensify, DocuSign, and other automated and streamlining tools – replacing traditionally paper transactions
Retaining proper segregations of duties and updating accounting procedures
Setting a standard of corporate citizenship and responsibility
Giving back, employee matching programs
Creating a learning environment
Taking a stand
Increasing and supporting diversity and inclusion efforts
These are just a few of the trends we've been seeing in our work with clients. While this has been a stressful and difficult time, there have been some silver linings. As we emerge from the past year's tribulations, we are grateful to have survived and honored to have witnessed all the good that can come out of even the darkest of times.
Insource Services offers outsourced, part-time HR, Finance, and IT services to small to midsized organizations. If you are interested in an assessment of your operations in any of these areas or would like to learn more about our services, please contact us at info@insourceservices.com.