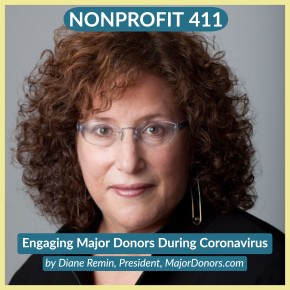 By Diane Remin, MajorDonors.com
Let's start by considering what donors want under normal circumstances. In her landmark, research-based book, Donor-Centered Fundraising (2003), author Penelope Burk, lays it out for us on page 10:
Prompt, personalized acknowledgement of their gifts
Confirmation that their gifts have been set to work as intended
Measurable results on their gifts at work prior to be asked for another contribution
Donors want to know what you are doing with their money—and, as time goes by, what their gift accomplished. Additionally, they want to be thanked right away and personally. That hasn't changed!
What is happening now—and what are the implications?
Uncertainty has increased. Trustworthiness has never been more important.
Distraction has increased. Donors need to be reminded about why your work is important.
You can't visit with donors in-person. In these times, use the phone and, preferably, videoconferencing (e.g. Zoom, Skype, FaceTime)
There may be financial issues. Listen carefully—don't presume. Be prepared to be flexible, e.g., re-negotiate pledge schedules. Take care of your donors!
How to engage your major donors: permission-based conversations.
I always feel a bit silly when I talk about a permission-based approach. Why? Because it is so obvious once you hear it. You are literally asking the donor for permission to take each step. Absent permission, stop and set-up the next check-in.
Step 1: Pick up the phone and check-in: How is the donor doing? This question has new significance amidst Covid-19. How are they, their family, how are they dealing with staying home, etc. Listen, listen, listen. If the donor is not doing well, stop, help if you can, and agree on another call an appropriate time down the road.
Step 2: Get permission to discuss what your organization is doing in response to COVID-19. Literally, "Can we talk about what [nonprofit] is doing in response to COVID-19?" Make this a discussion by including the donor: How does that strike you? Is this making sense? Do you have any thoughts about this?
Step 3: If the donor is engaged, get permission to talk about the funding plan: "Would it be OK if I share the funding plan with you now?" You are getting permission to talk about money. For this part of the conversation, you'll need a funding plan:
A dollar goal (think of this as a campaign)—On the phone, this sounds like: "We are looking to raise $X to [highlight key point or two most relevant to donor]."
A leadership giving chart with the number of gifts at each level. On the phone, simply describe a leadership giving range: "We are looking for leadership gifts in the $10,000 to $50,000 range." Tip: Consider asking one or two top donors for lead, matching gift(s) that total 50% of the goal.
Gift impact examples tied to the various leadership giving levels. On the phone, you'll mention one or two that coincide with the donor's likely giving level.
Step 4: Give the donor the opportunity to help.
It is a myth that major donors won't give or that you should leave your donors alone. Quite the contrary! Previous crises tell us that donors want to hear from you, know that you care, learn what you are doing, and help if they can.