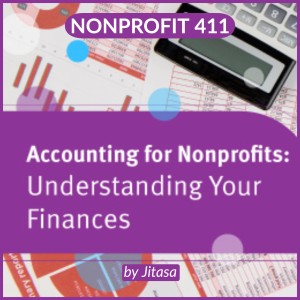 By Jitasa
You didn't start working in the nonprofit sector to stare at financial documentation, decipher challenging math equations, and file annual tax forms. However, that comes with the territory of nonprofit accounting. 
Especially now, as strategic plans have gone awry in light of the pandemic and resulting economic downturn, non-accountants can benefit tremendously from developing a basic understanding of nonprofit accounting concepts. This general understanding will help you better react to these economic difficulties and help you create forward-thinking plans that take into account financial best practices. 
The aspect of nonprofit accounting that impacts each and every team member is the formation and approval of your annual budget.
Approving your annual budget is one of your nonprofit board's many responsibilities. Meanwhile, calculating the budget is a job for the finance department, and implementing it falls to your development and programming teams. 
A drop in the expected revenue and cuts in the budgetary expenses are not reflective of the amount of faith in your team members but are the result of a series of complex calculations informed by previous years' metrics. 
Jitasa's nonprofit accounting guide explains that your revenue will be informed by either the discount or cutoff methods: 
Discount method:

Using this method, your finance team organizes your expected revenue by source, then multiplies that expected amount by the probability that you'll receive the revenue. For instance, if you have an 80% chance of receiving a grant worth $10,000, the budgeted revenue for that grant will be $8,000. 
Cutoff method:

The cutoff method uses a similar approach, but analyzes expected revenue as a whole instead of separate sources. Your finance team multiplies your entire expected revenue by the probability that you'll receive it. For example, if you expect to raise $1 million in total, but have a 75% chance of fundraising that much, you'll budget for $750,000 in expected revenue. 
Meanwhile, your expenses can be broken down into specific categories. These categories not only help you understand where finances are going, but also match up with the expense categories listed on your annual Form 990. This ultimately makes it easier to keep accurate records and to file tax forms. These categories include: 
Fundraising expenses.

These are the expenses that you incur to raise additional funds. They can be further broken down into your marketing costs, software investments, event costs, and other expenses that you take on to gain funding. 
Administrative expenses.

Administrative expenses are often fixed costs that you must pay to keep the doors open at your organization. They include things like employee salary, rent, utilities, and tools for data management.
Program expenses.

These are the costs that you incur to actually work toward and achieve your organization's mission in the community. For instance, a dog shelter would lump the veterinary bills and cost of leashes in with program expenses. 
Nonprofit accounting is a multifaceted entity that encompasses a wide range of topics. However, your budgeting process is one of those facets that everyone at your organization should have a grip on so that you can effectively raise funds and allocate them responsibly.