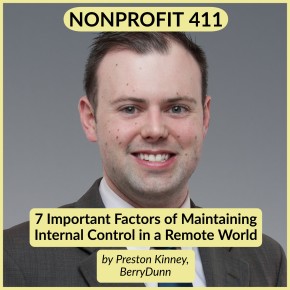 by Preston Kinney, BerryDunn
In a matter of weeks, our world and our workplaces have changed. With stay-at-home orders in effect, we need to consider how to keep our organizations safe as we work remotely from our homes. The following are seven internal controls that will help organizations maintain consistent and reliable controls now and into the future.
Accounts payable and check signing
Your accounts payable and cash disbursement process will likely be upended as a result of your new remote environment. Some have designated certain personnel responsible for checking mail on an infrequent basis. Bills received through the mail will need to be scanned to the accounts payable clerk for entry into the accounting system.
Check signing may also prove to be a challenge as blank check stock may be inaccessible. Electronic approval of invoices and signing of checks, as well as the use of wire and ACH transfers, are feasible solutions.
Segregation of duties
Segregation of duties may become difficult as employees shift to alternative work schedules or have other responsibilities. Maintaining segregation of duties should be a top priority and is something that should be reassessed as circumstances change. Challenging times may force you to get creative by requesting that employees perform duties they are not otherwise accustomed to performing.
Digital sign-offs
Control owners should be cautious about the integrity of an employee's initials simply typed onto a digital document, as any employee can perform this task. Digital signatures, which require an employee to enter credentials prior to signing, enhance the integrity of a sign-off and are often time stamped. Digital signatures may also "lock down" the document, prohibiting any changes to the signed document.
Timely review
Preparation and review may take longer than usual. If additional time is granted for the preparation and review of documents, consider the implications this has on the transaction class. The longer it takes to complete a control, the greater the consequences may be if you identify an error. For example, the impact of incorrect billing can be substantial if not identified timely.
Information and communication
If you have moved from a paper to a digital environment, sharing of information may not be an issue. For those still operating primarily in a paper environment, performing tasks and sharing information with team members may prove to be difficult. Further, those without the ability to scan and send documents from home could compromise a specific internal control altogether. Being forced to work remotely may be the perfect excuse to move paper processes to digital.
Monitoring
Monitoring your internal control environment is of utmost importance given these significant changes. Frequent conversations should be had with control owners to ensure changes to processes do not render controls ineffective. Identified gaps in internal controls should be addressed proactively. Control owners should discuss changes to control processes with departmental stakeholders so these departments can consider the impact of changes on internal control. This also gives these departments the opportunity to cover any resulting gaps.
Permanent changes
Once the remote work mandates end, the effects of working in such an environment will not. There are benefits and efficiencies to be found in working remotely. As people have been forced to work in such an environment, they will be more comfortable doing so. Therefore, let's take this opportunity to revise processes and internal controls to be "remote workplace" compatible. This could provide a long-lasting impact to your organization beyond the pandemic.
If you have questions about these 7 important factors, or if you have specific questions about maintaining your organization's internal controls in a remote environment, please reach out to Preston Kinney at pkinney@berrydunn.com, who is based in our Waltham, Massachusetts office. We're here to help.