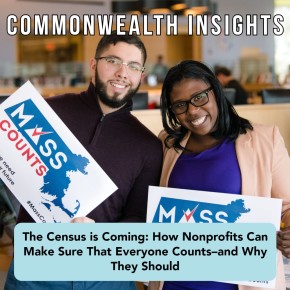 Today, we released the latest edition of Commonwealth Insights, "The Census is Coming: How Nonprofits Can Make Sure That Everyone Counts–and Why They Should."
The Census is nearly here, and nonprofits around the Commonwealth should prepare now to mobilize their communities in support of a complete count. As trusted messengers, nonprofits can leverage existing assets and take advantage of new ones to raise awareness, help individuals access and complete the Census, and coordinate efforts with partners to maximize collective impact.
This edition of Commonwealth Insights features case studies of three nonprofits–Castle Square Tenants Organization, the Pioneer Valley Planning Commission, and the Chelsea Collaborative–working to ensure that their communities count in 2020. Their work can serve as a guide for other nonprofits.
The report is a practical guide that contains useful tips and resources for nonprofits to drive participation in one of the most foundational, high-stakes activities that communities undertake.
This is the third edition of Commonwealth Insights published in 2019. You can read all past editions of Commonwealth Insights at massnonprofitnet.org/CommonwealthInsights. Please feel free to reach out to us with feedback on this or any Commonwealth Insights issue.
We are grateful for the generous support of our organizational sustainers, the Barr Foundation, the Boston Foundation, and the Highland Street Foundation, which makes reports like Commonwealth Insights possible.