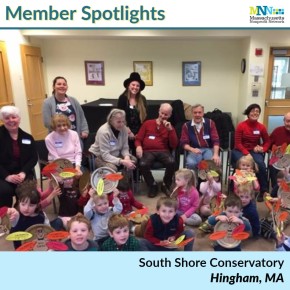 Every day, South Shore Conservatory proves that no matter your age or ability, art and music can change lives. Through a new collaboration with the South Shore YMCA, which began in September, South Shore Conservatory now offers its group classes, community events, programming and performances–many that are discounted or free–at Laura's Center for the Arts, located at the Emilson YMCA campus in Hanover.
"We're excited to partner with our neighbor, South Shore YMCA, to provide greater access and spread the joy of music to even more community members in the region," said Kathy O. Czerny, president of South Shore Conservatory.
SSC Memory Café is one example of the programming available at Laura's Center. A longtime volunteer at South Shore Conservatory, Marcia Vose knows firsthand the effects of Alzheimer's. She was the caregiver to her mother, who passed away from the disease after 12 years, and in 2017, her husband Abbot was diagnosed with early-stage Alzheimer's. Marcia's discovering of South Shore Conservatory's Memory Café, a program for both caregivers and their loved ones with memory afflictions, has given her and Abbot a newfound shared experience at a time when they need it most.
Marcia and Abbot enjoy the informal coffee and refreshments and time to interact with new friends followed by the more structured activities that range from playing instruments to singing to making creative crafts. SSC Memory Café stimulates everyone's brains and builds confidence and community among participants. Perhaps most importantly, it provides an opportunity to engage with others who are going through similar challenging times.
"There is relief in forming a bond with others whose experience in the regular social world often leads to feelings of isolation and uselessness. We usually go out to lunch after the café, both of us in high spirits. That joy is priceless," said Marcia. She and Abbot credit Eve Montague, director of Creative Arts Therapies, with invigorating their minds and spirits, and South Shore Conservatory for creating a safe and supportive environment for individuals to use music, dance and art to socialize and stay active.
"Music reminds us how we're all the same–not different. Our Creative Arts Therapies department impacts all ages, from toddlers to the elderly, and we're excited to bring these programs to Laura's Center for the Arts to reach all people, regardless of ability," said Eve, who has been a music therapist for over 33 years.
Programs and performances scheduled at Laura's Center include Music Together®, Mainstage Musical, SSC Community Voices, Too!, Singing with Parkinson's chorus, Coffee Break Concert Series, SSC Memory Café (sponsored by the Middleton Family), and dance classes. Other programs include a Music and the Brain symposium on March 28, 2020, which is part of a series of events to celebrate South Shore Conservatory's 50th anniversary in 2020.
"We hope that art and music enthusiasts of all ages will take advantage of the diverse offerings that are now available at Laura's Center in addition to our other locations," said Kathy.
For more information and to stay updated with upcoming events and programming, visit https://sscmusic.org/ and https://sscmusic.org/lca/.