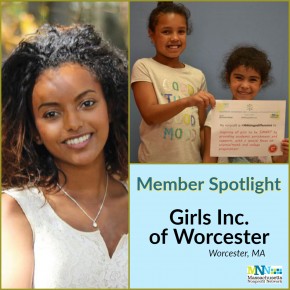 Our nonprofit members work tirelessly to open the doors to opportunity for people across Massachusetts. For Selam, MNN nonprofit member Girls Inc. of Worcester helped her to pursue her dreams.
Selam emigrated to America from Ethiopia after being adopted when she was eight years old. Selam joined Girls Inc. the summer after she arrived. She enrolled in the "Eureka"! program, a 5-year, STEM (Science, Technology, Engineering and Math)-based capstone program that engages and empowers girls in grades 8-12 in a variety of college preparatory, leadership, and STEM opportunities.
Girls Inc. of Worcester works to inspire all girls to be strong, smart, and bold. Eureka! Helps girls prepare for and attend college. In 2017, the first group of 18 girls that went through the program were accepted to more than 80 colleges across the country. More than $600,000 per year in college scholarships were awarded to these girls, 73% of whom went on to major in STEM-related fields in college.
Selam was recently chosen as a 2018 Girls Inc. National Scholar and was awarded the prestigious $20,000 Girls Inc. Lucile Miller Wright scholarship. She was selected from girls across the country and Canada for her outstanding academic achievements, community service work, and dedication to the Girls Inc. mission.
In addition to opening the door to opportunity, Girls Inc. opened a different, yet equally important, door: the one to a community.
Speaking about her peers in Eureka! and the staff of Girls Inc., Selam says, "They became a second family to me starting on the first day I participated in their programs. They have provided me with unwavering love and support over the years."
"Winning the Girls Inc. national scholarship is validation that I have so many people who believe in me and my potential to carry out my goals in life while having a positive impact on the world," she says.
Success stories like Selam's are happening everyday in nonprofits across Massachusetts. Nonprofits like Girls Inc. that nurture and leverage the hard work of young people are the key for many to a better life.