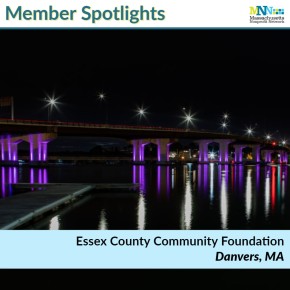 Before Sept. 7, 2019, many may have thought of the Beverly-Salem Bridge as just an average fixed-span roadway connecting the cities of Beverly and Salem, which lay on opposite sides of the Danvers River. But after, as the sounds of live music and laughter hung in the air and the bridge was illuminated in a shimmering purple light, it became so much more.
For seven days, painting, poetry, music, dance, theater, games and storytelling took up residence there, and they brought the bridge to life during the week-long Crossing Water arts festival, one of 12 public art and creative placemaking projects funded by the Creative County Initiative (CCI) of Essex County Community Foundation (ECCF).
ECCF is a charitable foundation – a family of more than 225 charitable funds – with a mission of inspiring philanthropy that strengthens the 34 communities of Essex County. They do this by managing and investing charitable assets ($91 million), strengthening and supporting nonprofits and engaging in strategic community leadership.
The Creative County Initiative – one of several of ECCF's current community leadership initiatives –  is a partnership between ECCF and the Barr Foundation to strengthen the creative ecosystem of Essex County. ECCF first partnered with Barr in late 2017, when Barr granted ECCF $500,000 to launch the pilot phase of Creative County. Together, with a commitment from ECCF to raise an additional $250,000, an innovative approach to elevating arts and culture in the 34 cities and towns of Essex County was born.
In the last two years, not only has ECCF funded 12 incredible public art projects across the county that have each united artists, businesses, nonprofit organizations, and municipalities, but the Foundation has also worked collaboratively with the Metropolitan Area Planning Council and the Merrimack Valley Planning Commission on local and regional cultural plans; launched EssexCountyCreates.org, a regional platform for local arts and culture; and hosted two Essex County Arts & Culture Summits, which together have gathered more than 700 people invested in strengthening arts and culture in Essex County.
ECCF recently announced a second round of funding from Barr – in the amount of $1 million – to continue this critical work. With a $300,000 second-round commitment from ECCF, over the next three years, the Foundation will invest an additional $1.3 million to equip the Essex County arts and culture community with knowledge, tools and systems to build an arts ecosystem that is sustainable, equitable and accessible for all.
"Arts and culture are so important for strong, connected communities," said ECCF President and CEO Beth Francis. "And we are so grateful to Barr for their support and so fortunate to have the opportunity to collaborate with so many people in Essex County who are committed to this work."
CCI is a profound example of how the Community Foundation's brand of systems philanthropy is making a big impact. Systems philanthropy is ECCF's innovative approach to long-term social change, not just in the arts, but across all of the Foundation's community leadership initiatives. It begins with community engagement, identifies root causes, inspires collaboration, invests larger resources over a longer period of time and engages funders as strategic partners.
"This systems approach enables ECCF to work alongside all those with a vested interest in creating population-level impact," said Stratton Lloyd, ECCF's COO and Vice President for Community Leadership. "It's a strategic, holistic form of philanthropy based on strong cross-sector partnerships, a common vision for our communities and trust."
Trust is a value common throughout all of ECCF's work.
"Trust is critical to all facets of our mission – from helping our fundholders navigate their philanthropic goals and building capacity in nonprofits to convening community leaders tackling Essex County's biggest social challenges," said Francis. "Trust brings with it the ability to make progress, and at ECCF it's something we value highly."
For more information on ECCF, visit www.eccf.org.