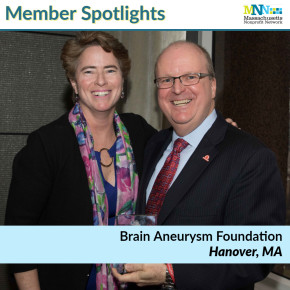 As the head of the Mass. highway department, Tom Tinlin, 53, was no stranger to stress. When persistent headaches sent him to the doctor, his physician encouraged him to relax and get rest, sending him home with a prescription. Six days later, while emceeing a charity auction, Tom realized something was seriously wrong. He walked off stage and told his wife they needed to get to the hospital. A scan uncovered that Tom was experiencing a ruptured brain aneurysm. Luckily, emergency surgery saved his life and he survived the ordeal without severe permanent damage. Knowing how fortunate he was to survive with minor deficits, Tom turned to the Brain Aneurysm Foundation (BAF), the globally recognized leader in brain aneurysm awareness, education, support, advocacy and research funding.
One in 50 people in the United States have a brain aneurysm, one rupturing every 18 minutes. Of the 30,000 people each year that suffer a rupture, 40 percent will die, and of those who survive, 66 percent will endure permanent neurological deficits that limit their ability to resume a normal life. A misdiagnosis or delayed diagnosis like Tom's occurs in up to 25 percent of patients with subarachnoid hemorrhage (SAH), the most common type of brain aneurysm.
"It frustrates me that my experience was avoidable, had my primary care doctor been more aware of the symptoms of a brain aneurysm. My hope is that we can educate more healthcare professionals and the public about brain aneurysms so that fewer people have to suffer or die," Tom said. BAF is helping him do exactly that. They are teaming up for the First Annual Tinlin Family 18 for 18, a golf tournament this September, named in recognition of the fact that someone suffers a rupture every 18 minutes. One-hundred percent of the proceeds will benefit BAF's tireless work to support the brain aneurysm community.
"We are consistently amazed by the unwavering dedication of survivors and families affected by the disease. Our goal is to be the ultimate resource for them so that no one has to feel alone in this struggle," BAF Executive Director Christine Buckley said.
To date, the foundation has distributed more than $2.6 million in research grants, benefiting 108 different research projects that focus on the prevention and detection of brain aneurysms. In addition to funding pertinent research, BAF collaborates with healthcare professionals to provide support networks and informed care to patients and families. BAF offers over 75 support groups in the U.S. and Canada, as well as an online support community. BAF also recently launched its first online accredited educational lecture on the early detection of brain aneurysms for primary care providers.
2019 marks BAF's 25th anniversary as an organization, which they are celebrating with a robust roster of events that will increase awareness and amplify their mission. Most of these events, like the Tinlin Family 18 for 18, are the product of partnering with brain aneurysm survivors or loved ones from around the country.
For more information about BAF and their upcoming events, please visit bafound.org.
***
Nonprofit members can click here to submit a Member Spotlight and share a story that best illustrates the positive impact their organization has in their community.