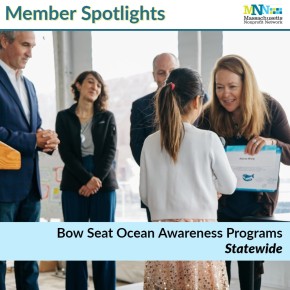 Bow Seat Ocean Awareness Programs is a Massachusetts-based nonprofit whose mission is to activate the next wave of ocean leaders through the arts, science, and advocacy. Bow Seat provides a space for teens to connect, create, and communicate for our blue planet through innovative programming that works at the intersection of science and arts education, with a focus on amplifying youth voices to advance dialogue and participation in ocean conservation.
Bow Seat, in partnership with Conservation Law Foundation, launched the 2019 Healthy Whale, Healthy Ocean Challenge to engage local youth in using their creative voices to highlight the plight of the critically endangered North Atlantic right whales and the need for conservation of marine ecosystems and resources. The Challenge invited K-12 students from the New England region to create visual art, poetry, and short films that celebrate this iconic species and drive action for its protection.
Bow Seat received more than 130 imaginative and inspiring submissions, including entries from Massachusetts students from Boston to Deerfield and Andover to Pocasset. The Challenge winners and participants were recognized on Sunday, May 5, at an awards ceremony during the Right Whale Festival at the New England Aquarium. This community event featured a student art exhibit, film screenings, presentations by youth conservation leaders, and a panel discussion moderated by National Geographic photojournalist Brian Skerry, who served as a judge for the Challenge. The participants' pieces will be an important part of an ongoing campaign to inspire awareness, care, and action for right whales and the ocean, which will include future events and art exhibitions.
"I created what I did to inspire people to be mindful of their impact on the ocean. By making this piece, I learned more than I was expecting to; I learned that the whales need our help, that they are beautiful, and that we need to act soon," said Eliza Goodwin, a Challenge participant.
The Healthy Whale, Healthy Ocean Challenge was presented with the Secretary's Award for Excellence in Energy and Environmental Education by the Executive Office of Energy and Environmental Affairs at a ceremony at the Massachusetts State House on May 6, 2019. This award recognizes outstanding efforts to improve energy and environmental literacy in the Commonwealth.