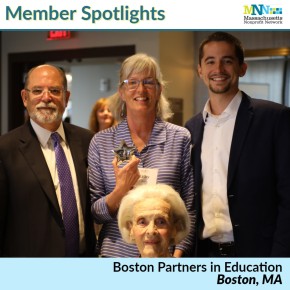 Showing appreciation for the volunteers and community that support a nonprofit's mission is extremely meaningful and can result in better retention, improved recruitment, and the creation of brand ambassadors.
Boston Partners in Education's mission is to enhance the academic achievement and nurture the personal growth of Boston's public school students by providing them with focused, individualized, in-school volunteer support. On June 11, the education nonprofit applauded the end of the school year with their own celebration: their annual AMP! Awards.
The AMP Awards are designed to recognize and honor the volunteer academic mentors, teachers, and corporate partners who serve Boston's public school students. Presented in seven categories including the Educator of the Year, School Partner of the Year, and Rookie of the year; the awards recognize individuals and partners who have demonstrated an exemplary dedication to improving the lives and education of BPS students through their relationship with Boston Partners.
It takes a special commitment to become an academic mentor, and over 80 partners joined the festivity to celebrate their peers. The ceremony was kicked off by Boston Partners Chairman Mike McKenna and Executive Director Erin McGrath reiterating the immeasurable impact that volunteer academic mentors make in the classroom each year.
"These individuals work on the front lines of our mission. Whether they are volunteering, teaching, or partnering with our organization, everyone deserves recognition for their commitment," said Erin McGrath. "These awards are a small way to show them how grateful Boston Partners is for their dedicated work in our community."
One of the awards, the John C. Rennie Mentor of the Year Award is presented to a volunteer who "embodies what it means to be a Boston Partners in Education academic mentor." This award recognizes an individual who becomes an integral part of the classroom as both an academic mentor, friend, and role model. This year's award was presented to Kathy Weld (pictured above), who has been a fixture in Mr. Russell's classroom at the McKinley South End Academy since 2015.
While Boston Partners mentors aim to help students who could benefit from more individualized attention in the classroom during the school day, mentoring at the McKinley South End Academy is different than the typical Boston Partners volunteer experience. The school focuses on the emotional, behavioral, and learning needs of its students using a highly-structured behavior management system. For students who receive a lot of messages about the ways that they're not doing well and might not succeed, it's significant to have someone from their community come into their classroom each week and tell them that they believe in them. Mr. Russell joined the AMP Awards to present the award to Kathy, and described her as "in a category of her own."
"She doesn't just put in time," Mr. Russell said. "She's exemplary in her willingness to do anything, and for her flexibility, her insight, her compassion, and good humor."
Kathy's special connection to the school isn't simply the result of personalities meshing. Kathy spends more time working with students than Boston Partners volunteers typically do — much more, in fact. For over three years, Kathy has been mentoring two or more days a week for three or more hours each day. According to Mr. Russell, more important than the quantity of her work, in the countless hours that Kathy has spent in his classroom, is the quality.
Acknowledging and showing gratitude for the individuals that support and drive your organization's mission is an important part of becoming a successful nonprofit. Like the AMP Awards, a celebration to acknowledge the dedication it takes to support a nonprofit organization is a great way to reinforce the importance of the work they do and extend a Thank You to your community.
To learn more about how to get involved as an academic mentor, visit www.bostonpartners.org.