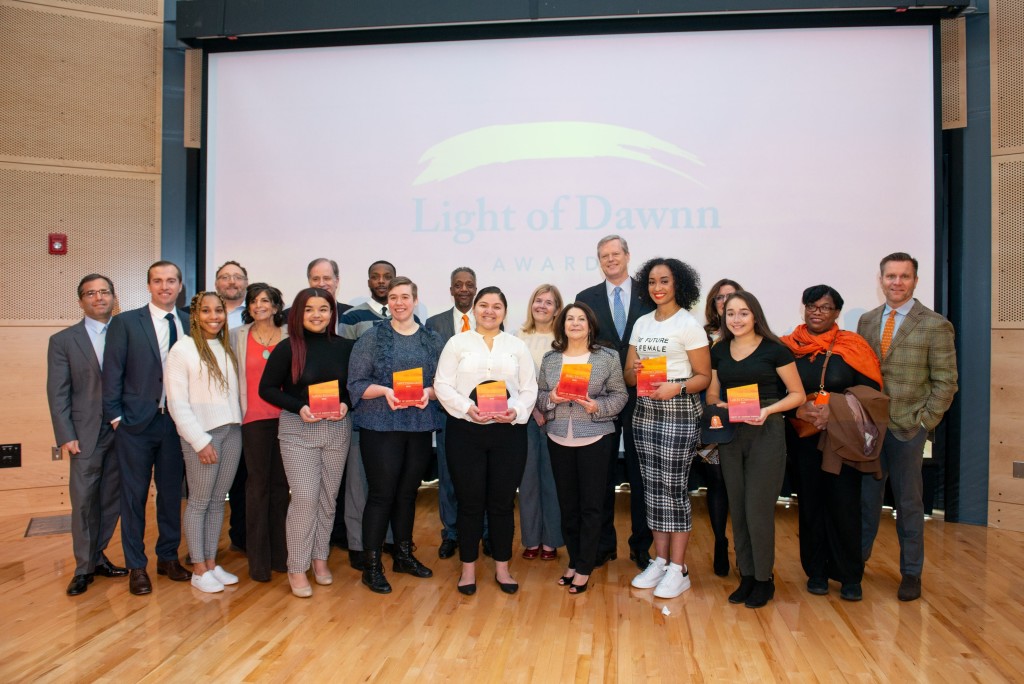 Nonprofit leaders, government officials, and community members came together at the West End House Boys and Girls Club on Tuesday for the sixth annual Light of Dawnn Awards Ceremony to honor the life of Dawnn Ashley Jaffier. Three front-line nonprofit professionals and three high school seniors who embody Dawnn's legacy were recognized for their service to their communities.
Massachusetts Governor Charlie Baker delivered remarks at the ceremony.
"Our administration is grateful for the West End Boys and Girls Club's dedication to the continued celebration of Dawnn's life and service," said Governor Charlie Baker. "Congratulations to this year's award and scholarship recipients, each of whom exemplify Dawnn's compassion, leadership, and kindness."
The Light of Dawnn Awards were created to honor the memory of Dawnn Jaffier, who was killed on August 23, 2014, while on her way to a neighborhood celebration. At 26 years old, Dawnn had made a significant impact in her community through her work at nonprofits, including the West End House, Playworks, City Year, and the Boys and Girls Clubs of Boston.
After Dawnn's death, her family, friends, and colleagues came together to create the Light of Dawnn Awards to honor Dawnn's legacy of compassion and service. The Awards aim to raise the public profiles of nonprofit workers doing important direct-service work, particularly those who do not have prominent or externally-facing roles.
Every year, three direct-service nonprofit professionals are selected to receive a Light of Dawnn Award and a $5,000 cash prize. The Awards are presented by the Highland Street Foundation and the Kraft family and managed by the Massachusetts Nonprofit Network.
This year's awardees are Shantell Jeter, Physical Education Teacher at Boston Green Academy; Aspen Eberhardt, Operations Director at Greater Boston PFLAG; and Isabel Villela, Case Manager at La Alianza Hispana.
"It is an honor to recognize Shantell, Aspen, and Isabel for their outstanding contributions to our community," said Blake Jordan, Executive Director of the Highland Street Foundation. "Just like Dawnn, these individuals quietly go about their work every day driven by a desire to make a difference in someone's life."
"We are pleased to celebrate Dawnn's spirit and legacy by honoring this year's outstanding Light of Dawnn Award recipients," said Jim Ayres, chair of the Massachusetts Nonprofit Network's board of directors. "Shantell, Aspen, and Isabel are outstanding examples of the hundreds of thousands of nonprofit professionals across Massachusetts that work to make our communities stronger."
In addition, three high school seniors were awarded the Light of Dawnn Scholarships for their community work. Now in their fifth year, the scholarships were created by John Hancock, where Dawnn's mother is a longtime employee, and the Foundation To Be Named Later. Scholarships of $5,000 are given to each recipient for higher education.
This year's scholarship recipients are Aleena Mangham and Lesley Carranza of the West End House Boys and Girls Club and Erika Yamilet Garcia of Beacon Academy.
"We are honored to once again join Dawnn's family, and our community partners, to pay tribute to her extraordinary life and legacy," said Tom Crohan, VP & Counsel, Corporate Responsibility and Government Relations, John Hancock. "Aleena, Lesley, and Erika exemplify Dawnn's commitment to community service, and we hope their awards make the decision to attend college a little easier."