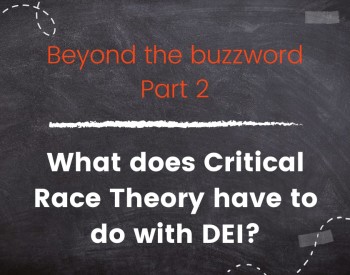 By YW Boston
Last month we spoke with Dr. Sarah Faude, YW Boston's Director of Research and Evaluation, about Critical Race Theory (CRT) and why it is misunderstood. This month, we continue our conversation and discover how CRT can support your nonprofit's diversity, equity, and inclusion goals.
How can understanding Critical Race Theory support DEI initiatives?
Critical Race Theory pushes us to ask "why" when looking at outcomes, norms, and institutional practices. YW Boston draws from several different theories, including CRT, to focus on root cause analyses. It pushes us to ask, "in what ways are things unequal?" and "how do we change it?"
Organizations talk about how it is frustrating that their staff isn't diverse. They feel that the problem is too big. Where CRT can be helpful is slowing down to think about what are all the different policies and practices you do control. For instance, focus on policies in your handbook, who you reach out to with a job posting, how you expect employees to "show up" at work. These may not always impact who applies to your job but will impact whether people stay. Too often we see that the issue isn't getting people of color in the door or even to the interviewing stage, but it's getting people of color to stay once hired. Once you've narrowed the scope of the problem to things within your organization, you have a lot to work with.
How are you using Critical Race Theory in your work as Director of Research and Evaluation?
Connecting Critical Race Theory to evaluation creates more room in the conversation. When we decenter Whiteness, it is not to disregard Whiteness, but to make room for more at the center. When we're working with partners, we are disproportionately working with White people. Anytime you average the experience of everyone in the room, you're looking at a whitewashed average because there are more White people in your sample.
One of the things I'm working towards is to start pulling out subsets that are specifically the experiences of women, people of color, and more specifically women of color. So, we listen to both the average, and we pull out value and amplify that subgroup in the spirit of CRT's counternarratives. Their experiences need to be elevated to help complicate what we think may or may not be happening within organizations.
What is the role of "complicating" in organizational change?
I think that by asking complicated questions, you're going into the weeds. That complexity is always opportunity. It helps us see all the different opportunities that we have before us we might have missed. Like asking, "How do we fix our culture at our organization?" Well, let's take that big thing and start breaking it down into its component parts by who works there, the documents, the practices. If we can both have the big picture goal in mind and be in those weeds, we have an opportunity to innovate and work towards inclusion.
About YW Boston
As the first YWCA in the nation, YW Boston has been at the forefront of advancing equity for over 150 years. Through our DE&I Services—InclusionBoston and LeadBoston—as well as our advocacy work and youth programming, we help individuals and organizations change policies, practices, attitudes, and behaviors with a goal of creating more inclusive environments where women, people of color, and especially women of color can succeed.
As part of that work, we are helping organizations prioritize Diversity, Equity & Inclusion and become socially connected while staying physically distant. During this time, YW Boston is providing organizations with digital workshops and resources to help them better understand the challenges faced by their employees. For more information, please contact Sheera Bornstein at sheera@ywboston.org.