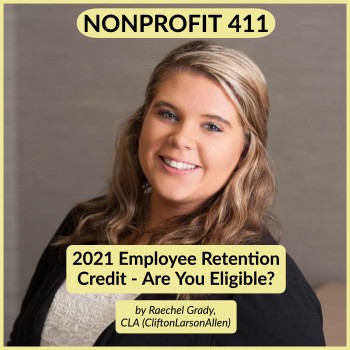 By Raechel Grady, CPA, MSA, Senior Associate, CLA (CliftonLarsonAllen)
The Consolidated Appropriations Act, 2021 (CAA 2021) expanded the employee retention credit (ERC). We've answered some frequently asked questions to help you determine whether your organization is eligible.
What periods are ERC available for?
CAA 2021 modified the ERC to make it available for the first two quarters of 2021. It was originally set to expire on December 31, 2020.
If my organization received a PPP loan, is it still eligible for the ERC?
Prior to the passage of CAA 2021, employers that received a PPP loan could not claim the ERC. CAA 2021 changed this rule retroactively. Now, employers that received a PPP loan in 2020 may claim the ERC for qualified wages paid after March 12, 2020 and before January 1, 2021 — if they are otherwise eligible for the credit. However, an employer cannot claim the ERC on wages it uses to receive PPP loan forgiveness.
Who is eligible for the ERC?
If an entity's operations were fully or partially suspended due to a government order, then the credit is applicable for the dates the government order is in effect. Employers may also be eligible if they had a significant decline in gross receipts — less than 80% compared to the same quarter in 2019. If an organization was not in business in 2019, it can use 2020 as its comparison year.
What is the amount of the ERC in 2021?
Effective January 1, 2021, the maximum credit increased to $7,000 per employee for each of the first two quarters of 2021, for a possible $14,000 credit per employee. The 2021 credit is available even if the employer received the $5,000 maximum credit for wages paid to such employee in 2020. Under the new law, the credit is also allowed for hazardous duty pay increases.
Are there limits to the size of an entity that can apply for ERC?
Effective January 2, 2021, an employer with 500 or fewer full-time employees will be eligible for the credit, even if employees are working. When calculating the 500-employee threshold, the employees of affiliated companies sharing more than 50% common ownership are aggregated. For entities with more than 500 full-time employees, the ERC can only be claimed for those employees who are not providing services.
Still have questions?
Visit CLAconnect.com and reach out to a trusted professional who can help you understand ERC eligibility requirements and provide strategies to enhance economic relief for your organization.
The information contained herein is general in nature and is not intended, and should not be construed, as legal, accounting, investment, or tax advice or opinion provided by CliftonLarsonAllen LLP (CliftonLarsonAllen) to the reader. For more information, visit CLAconnect.com.
CLA exists to create opportunities for our clients, our people, and our communities through our industry-focused wealth advisory, outsourcing, audit, tax, and consulting services. Investment advisory services are offered through CliftonLarsonAllen Wealth Advisors, LLC, an SEC-registered investment advisor.