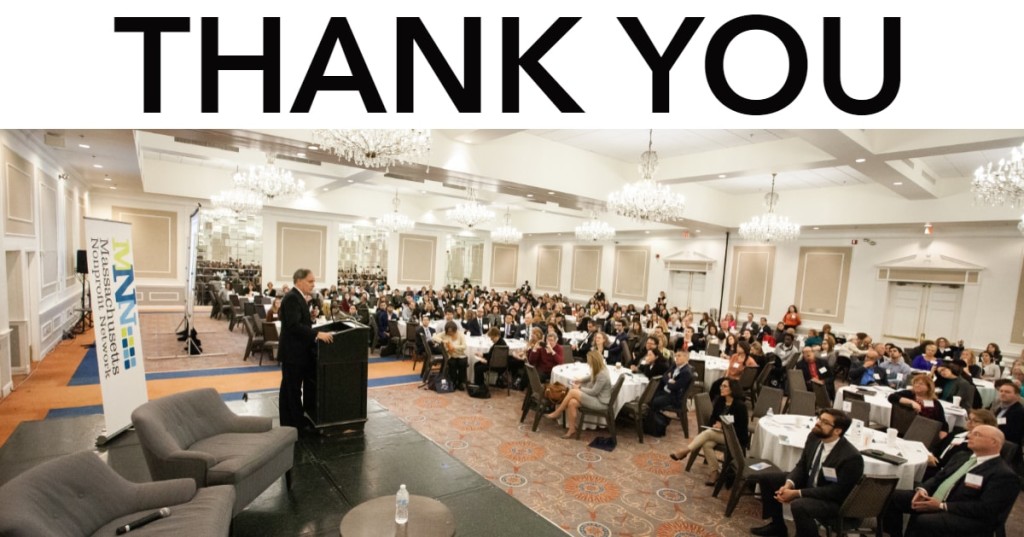 FRAMINGHAM, MA – On Wednesday, October 16, 2019, over 600 nonprofit and business leaders attended the Massachusetts Nonprofit Network (MNN)'s annual conference, Building A Better Commonwealth. The conference provided 30 workshops and networking to deepen nonprofit leaders' capacities to build stronger communities, featured a keynote panel discussion focusing on three areas of the statewide sector's impact, and honored Priscilla Kane Hellweg and Darnell Williams for their storied and influential careers in the nonprofit sector.
"We know that in this line of work, there are often times when your feet are tired, but your soul is rested," said CEO Jim Klocke in his opening remarks, hearkening back to civil rights icon Mother Pollard. "Our goal today is to give you sustenance so that at the end of each day going forward, your souls may be rested."
The conference featured a keynote panel discussion moderated by Bob Gittens, Executive Director of Cambridge Family and Children's Services and Vice Chair of the MNN Board of Directors, with Rachel Heller, CEO of the Citizens' Housing and Planning Association (CHAPA), Eva Millona, Executive Director of the Massachusetts Immigrant and Refugee Advocacy (MIRA) Coalition, and Jerry Rubin, President and CEO of JVS Boston.
The panelists discussed the theme "building a better Commonwealth" and how their organizations are addressing critical issues throughout the state. The panel focused in particular on the ways that their respective issue areas–combating "cliff effects" and promoting economic mobility (CHAPA), ensuring a complete count in the 2020 Census (MIRA), and preparing the workforce for a 21st century economy (JVS Boston)–impact the nonprofit sector broadly and thus require collaborative approaches.
"The 2020 Census impacts all of us; if we are under-counted, we will all suffer," said Millona. "Nonprofits need to work together to make sure that doesn't happen."
"The issue for many people in this economy is not finding a job–it's getting a good job that pays well," said Rubin. "JVS Boston works directly with employers to create these kinds of jobs."
"We need a culture that calls out what's wrong in our society, and we need collaboration between organizations to make it right," added Heller.
MNN also presented the 2019 Lifetime Achievement Awards to Priscilla Kane Hellweg, Executive and Artistic Director of Enchanted Circle Theater, and Darnell Williams, former President and CEO of the Urban League of Eastern Massachusetts.
Priscilla Kane Hellweg, who co-founded Enchanted Circle Theater 39 years ago, was honored for her dedication to providing arts integration education and for inspiring thousands of children and adults across Massachusetts.

"I still feel inspired whenever I see a child using arts integration go from 'I can't' to 'I can,'" said Kane Hellweg. "It doesn't get better than that."
Darnell Williams, who served as President and CEO at the Urban League until September, was honored for his commitment to uplifting communities of color in the Greater Boston area.
In his remarks, Williams implored the nonprofit audience to "keep marching" to the top of the proverbial mountain–and not to leave anyone behind. "We can't forget to bring the forgotten with us. Reaching the summit happens when we're all there together," said Williams.
The conference also featured almost 50 business exhibitors focused on serving nonprofits. Held every year since the organization's founding in 2007, MNN's conference is one of the largest events dedicated to building nonprofit capacity in Massachusetts.