2016 MNN Annual Conference: Moving Forward for a Better Commonwealth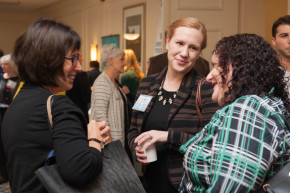 On November 2, 2016, 600 nonprofit leaders and business professionals gathered for a day of sharing, learning, and networking at MNN's annual conference Moving Forward for a Better Commonwealth. This year's conference focused on what it would take for the nonprofit sector to move forward in an ever-evolving social, economic, and political climate. Professionals representing every sub-sector and from every career level came together to draw upon the collective expertise of the entire sector.
The day began as attendees filled the halls outside the ballroom, which were lined with exhibitor tables. Fifty exhibitors featured  a variety of products and services, from technology and advocacy to banking and fundraising. The excitement was palpable as business cards were exchanged, and connections were built that would last beyond that day.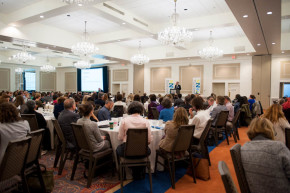 The morning event kicked off as Jim Klocke, MNN's CEO, welcomed attendees to the event and offered encouragement. "You face big challenges every day," Jim said. "Internal, external, and a lot of both on the hardest days. We have been reminded before, and we do well to remember today, that there is value in taking on these hard challenges." Jim went on to remind those assembled that, in spite of these challenges, or perhaps because of them,  Massachusetts remains poised to lead with its vibrant and engaged nonprofit sector. During the morning program, we also heard from Dr. Gururaj "Desh" Deshpande, seasoned entrepreneur and keynote speaker, who offered his perspective on the ways in which Massachusetts nonprofits could continue to move forward. Desh praised the Massachusetts nonprofit sector, saying that "Massachusetts is the capital of the world in nonprofit, both in quality and quantity."
Throughout the day, there were three workshop breakout sessions where attendees could choose between 31-expert led workshops. The presenters covered a variety of topics, such as proper fundraising techniques, how to tell a brand story, what it means for diversity and inclusion to be the cornerstone of an organization, and so much more. A glance into any of these workshops revealed rapt audiences, knowledgeable speakers, and an atmosphere of engagement and learning.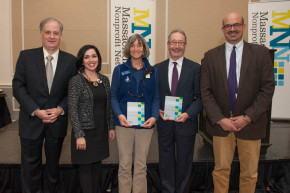 During the lunchtime program, MNN announced its  2016 Lifetime Achievement Award winners, Deborah Cary of Mass Audubon and Michael Maso of the Huntington Theatre Company, both of whom, in their respective fields, have dedicated their careers to improving and strengthening the Commonwealth.
Deborah Cary, who has worked with Mass Audubon for the past 31 years, shared her tips for getting things done, which not only included the practical advice to stretch everyday, get more sleep, and take walks in the park, but also to share credit, be inclusive, thank people, and always remain positive even in the face of adversity. "Look for the good and let the rest die of neglect," Deb advised. 
In his acceptance speech, after assuring his audience that he could not get anyone tickets to Hamilton, Michael Maso also spoke of the importance of positivity in the face of adversity, particularly in today's charged cultural and political climate.  "Empathy is the theater's great gift and most important product," Michael said. This empathy and positivity allowed Michael and the Huntington Theatre to negotiate with developers to save their principal theater from destruction and protect it for the next 99 years.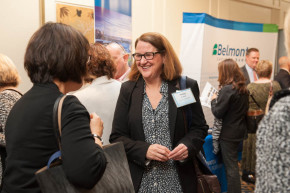 In closing, Jim Klocke praised those gathered for helping to build a network of nonprofits that strengthened the Massachusetts community as a whole. "Our greatest strength as a network is the commitment, creativity, and character you all bring to your work every day," Jim said, "We want to do everything we can to help advance your work, and in the process make Massachusetts a truer Commonwealth."
Thank you to our conference sponsors who have made tremendous commitments to strengthening the state's nonprofit community. A special thank you to our Leadership sponsor Appleton Partners, our Workshop sponsor Cambridge Savings Bank, and our Luncheon sponsor Comcast. In addition, we want to thank everyone who attended our 2016 conference. Our conferences would not be what it is without your energy, support, and commitment to working together to move the Commonwealth forward.