Massachusetts Nonprofits: Woven Into Every Aspect of Life in the Commonwealth
This report provides a comprehensive, data-driven overview of the broad range of benefits provided by one of Massachusetts' greatest resources: its nonprofit sector. Everyday, across the Commonwealth, mission-driven nonprofit organizations offer a wide variety of programs and services whose scope defies easy summary. Nonprofits strengthen communities through volunteer programs, feed the hungry, shelter the homeless, provide early education for children, conduct health screenings and cutting edge research, deliver care via emergency room hospital visits, offer opportunities for all ages to get outside, celebrate cultures, preserve historic sites and cultural resources, educate our future workforce and help protect clean water, air, and wildlife habitat.
---
Commonwealth Stats Data Tool 
Commonwealth Stats provides MNN members the ability to find specific demographic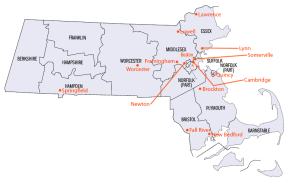 data1 for the counties they serve including income, age, education level, race, ethnicity, and language. It also allows users to compare that demographic data between counties and between prominent cities and towns and against statewide data. Through this tool, users will also be able to download data sets and create charts to use for grant proposals, websites, social media, and more.
MNN is offering this tool to provide members with more detailed information about the areas and populations they serve. Please try out this tool and provide us with feedback on your experience with it, including any problems you encountered and what additional kinds of data would be useful for your organization.
Users of Commonwealth Stats may also be interested in these region-specific data tools that delve deeper – Boston Indicators, Berkshire Benchmarks. CONNECT Cape Cod, Central Massachusetts Regional Planning Commission, Pioneer Valley Regional Data Portal, Metropolitan Area Planning Council (Boston), and South Coast Urban Indicators Project.
Click here to access the tool.
The Commonwealth Stats data tool is provided by Comcast NBCUniversal.


This project was developed by Harini Suresh, Maryam Archie, Zoe Anderson, Lior Hirschfeld, Eliza Khokhar, Kaveri Nadhamuni, and MIT Code for Good.
1Data source: the U.S. Census Bureau.