Chaplain Clementina (Tina) Chéry, President and CEO of Louis D. Brown Peace Institute in Dorchester, MA, and Jay Lynch, Executive Director of the Brockton Area Arc, Inc., in Brockton, MA are the 2020 Lifetime Achievement Award winners!
The awards were presented at the annual conference on October 8th and October 13th. Attendees can watch the recordings to hear Chaplain Chéry and Jay Lynch speak and listen to exclusive interviews with both our winners to learn more about their incredible work in the nonprofit sector.
Read more about Chaplain Chéry and Jay Lynch below.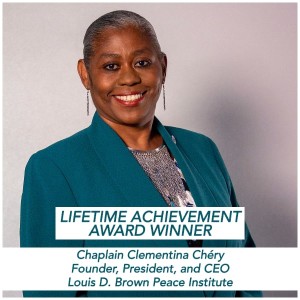 Chaplain Clementina (Tina) Chéry is the founder, President and CEO of the Louis D. Brown Peace Institute, a center of healing, teaching, and learning for families and communities impacted by murder, trauma, grief, and loss. Chéry founded the Peace Institute in 1994 in Boston, Massachusetts after the murder of her 15-year-old son Louis. For more than 25 years, Chéry has used her experience as a survivor to serve families impacted by murder, advocate for Survivors of violent crimes, and develop best practices for homicide response.
Through the Peace Institute, Chéry's vision is to create and sustain an environment where all families can live in peace, and to transform society's response to homicide. With the support of elected officials, including Boston Mayor Marty Walsh and Congresswoman Ayanna Pressley (D-MA), the Peace Institute and Chéry have equipped the City of Boston with resources and guides, including The Survivors' Burial and Resource Guide: A Step by Step Workbook for Regaining Control, Always in my Heart and co-authored The PeaceZone: A Program for Social Literacy.
Chéry is on a quest to spread the Peace Institute's knowledge and success nationally, and form new partnerships in peace to support Survivors in all walks of life. Chéry has present at the National Office for Victim Assistance, Harvard University's Schools of Divinity and of Medicine, Boston College's Schools of Social Work and of Law, Temple Israel, Trinity Church Boston, and to multiple police departments including Boston and Miami. is a founding member of the National Coalition for Survivors of Violence Prevention
Chéry has received awards in recognition of her courageous leadership, tireless peacemaking work, and service to her community. In the last ten years, Chéry was named one of Boston's 100 Most Influential Leaders of Color, was awarded the 2016 Impact Award by Phillips Brooks House Association at Harvard University, received the Champion of Peace Award from Salem State University, and was named Citizen of the Year by the National Association of Social Workers.
Ordained as a senior chaplain with the International Fellowship of Chaplains, Inc. in February of 2012, Chéry also holds honorary Doctorate Degrees from Regis College, Mount Ida College and the College of the Holy Cross. Chéry was born in Honduras and raised in Dorchester, Massachusetts where she currently lives. Her proudest accomplishment is being a mother to Louis, Alexandra, and Allen, and grandmother to Alexander.
---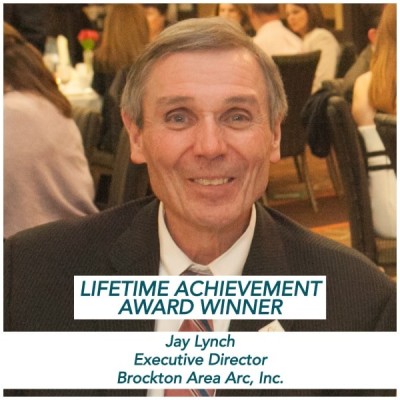 Jay Lynch
Jay Lynch is a 1973 graduate of Stonehill College with a Bachelor's Degree in Sociology. In the fall of 1973, he and his new wife, Ginny, became Volunteers in Service to America (VISTA). They were asked to come to New York City to join other VISTA volunteers for training and their eventual assignments in the City.
As VISTA Volunteers, they were asked to bring what that they had learned back to their home communities. That is where they would have the potential to make changes, where they lived and worked.
Jay's wife chose to work in public education for 35 years in Brockton, Massachusetts, their home community. Jay chose to work in human services, first with BAMSI for five years, and then with the Brockton Are Arc for the next 37 years. The Brockton Area Arc serves children and adults with intellectual and developmental disabilities and their families.
Jay has been the Executive Director of the Brockton Area Arc since 1991.