The keynote panel at MNN's 2020 conference discussed issues important to Massachusetts nonprofits such as racial justice, diversity, equity, and inclusion. The panel was moderated by Michael Curry, Deputy CEO and General Counsel of the Massachusetts League of Community Health Centers. The panelists were Eric Masi, President and CEO of Wayside Youth & Family Support Network; Beth Chandler, President and CEO of YW Boston; Charmane Higgins, Executive Director of Trinity Boston Connects; and Lee Pelton, President of Emerson College.
The panel was centered around the conference theme, "New Paths Forward," capturing a common aspiration of the Massachusetts nonprofit sector with a focus on diversity, equity, inclusion, and racial justice.
Read the biographies of 2020's keynote panel below.
---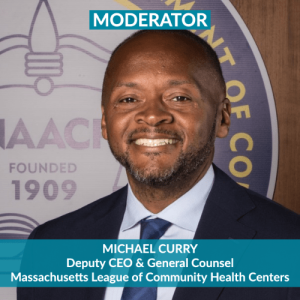 Michael Curry, Esq. is the Deputy CEO & General Counsel at Massachusetts League of Community Health Centers (the "Mass League"), which represents 52 health centers, serving over 1 million patients out of over 314 practice sites throughout the state. He previously served as Senior Vice President of the Government Affairs and Public Policy Division for the Mass League. Prior to joining the League in 2008, Michael had a 16-year career at Blue Cross and Blue Shield of Massachusetts, most of that time as Senior Policy Advisor in the Corporate Affairs Division, which included government, public, internal and community affairs. He has served on the health care transition teams for Governor Deval Patrick and Boston Mayor Marty Walsh, as well as the transition team for Brockton Mayor Linda Balzotti, and was involved in the passage of Massachusetts Health Reform and the Affordable Care Act. He also serves on the boards of the Massachusetts Budget and Policy Center, the Massachusetts Nonprofit Network, and formerly on the Board of Trustees for Roxbury Community College, as well as in the role of Adjunct Professor for the Suffolk University Moakley Center for Public Management. He has received numerous local and national awards for leadership and advocacy.
Curry was also past President of the Boston Branch of the NAACP (2011-2016), and has over twenty years of dedicated service to the NAACP on the city, state-area conference and national levels. He was elected nationally to the NAACP's Board of Directors in 2014, and reelected twice in 2017 and 2020, and now serves as Chair the National NAACP's Advocacy & Policy Committee and Vice-Chair of the Political Action and Legislation Committee.
Mr. Curry earned a Bachelor's of Arts from Macalester College in St. Paul, Minnesota and a Doctorate of Jurisprudence from New England Law Boston, and graduated from the inaugural class of the Executive Leadership Council's Pipeline to Leadership Program.
He is a frequent Political Commentator on WBUR's Radio Boston, Morning Edition and Week in Review, Boston Public Radio WGBH with Jim Braude and Margery Eagan, WGBH's Greater Boston, and New England Cable News/NBC Boston, as well as frequently requested to provide reactions to breaking news, presidential and mayoral debates, and state of the union/city addresses.
Based on his close to 30 years of experience in health care and insurance, combined with his advocacy on the issues of health equity and racial disparities, Michael is working on various aspects of the COVID- 19 pandemic. He serves on both the City of Boston's COVID-19 Health Inequities Task Force and the Massachusetts Public Health Association (MPHA)'s Health Equity Task Force, and coordinating the community health center response to the public health crisis with the state's Attorney General's Office (AGO), Executive Office of Health and Human Services (EOHHS), various municipalities, and Partners in Health on testing, tracking, contact tracing and treatment.
---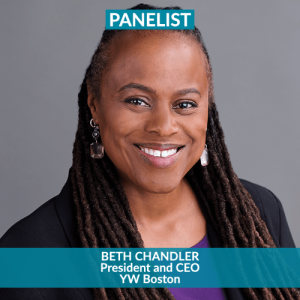 Beth Chandler joined YW Boston in November 2012, with more than 20 years of experience in both the corporate and nonprofit sectors. In August 2018, she was appointed President & CEO. Her breadth of work experience encompasses program development, delivery and evaluation, business development, and operations.
Prior to working at YW Boston, Beth served as vice president at the Achievement Network, a national non-profit dedicated to helping urban public and charter schools close the achievement gap. Beth also held positions at Massachusetts Legal Assistance Corporation, the largest funding source for civil legal aid programs in the Commonwealth and Neighborworks America, one of the country's preeminent leaders in affordable housing and community development. Beth also worked as a corporate banking associate with Bank of America in corporate banking and began her career as a research and evaluation analyst with the Urban Institute.
Currently, Beth serves on the MA Conference United Church of Christ Board of Directors, the Women's Workforce Advisory Council and the Leadership Circle of Hope Central Church.
---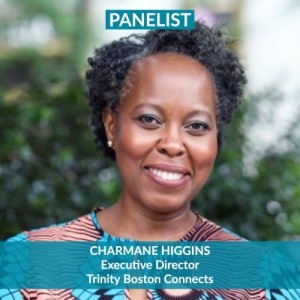 Charmane Higgins
Before becoming Executive Director of Trinity Boston Connects, Charmane Higgins served as Executive Director of STRIVE, a social justice nonprofit focused on young adults in Boston, from 2008-2017, during which time she transitioned the organization to become a part of Justice Resource Institute. From 2017-2019 she was a consultant to nonprofit organizations. She has been a Senior Fellow at the Institute for Non-Profit Practice since 2010 where she mentors a cohort of emerging nonprofit leaders of color. Charmane attended Boston Public Schools and graduated from Boston Latin School. She earned a BA in Classical Civilization from Wellesley College, an MA in Latin from the University of Texas and an MBA from Simmons College. She has served as Past Chair and current member of the Board of Trustees of Boston Latin School Alumni Association and just completed a six-year term on the board of the ACLU in Boston. She is a current Board member of the Mass Nonprofit Network and is an adjunct faculty member at Boston College School of Social Work.
---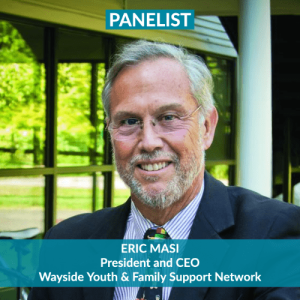 Eric Masi has served as the President & CEO of Wayside Youth & Family Support Network for over 30 years. Eric serves on various statewide committees and boards and is the past Chair of the Children's League of Massachusetts and the past Chairperson of the Children's Policy Committee for the Association for Behavioral Health. He is a member of the board of the Massachusetts Nonprofit Network. Eric has also served as a Peer Reviewer for the Council on Accreditation of Services to Children and Families. He received his bachelor's degree from Georgetown University and his master's and doctoral degrees from Harvard University.
Founded in 1977, Wayside Youth & Family Support Network is a child welfare and behavioral health organization committed to social and racial justice work in its effort to improve the wellbeing and independent functioning of children, young adults, and families.
---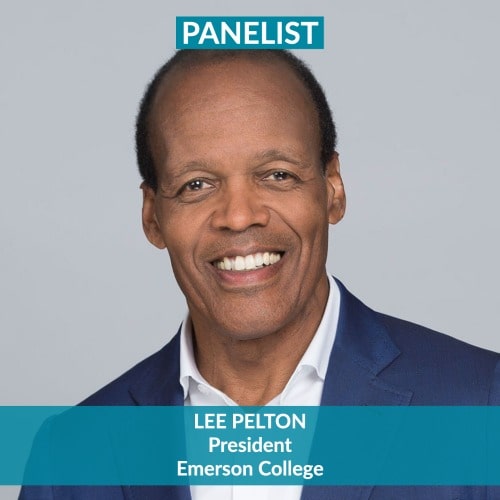 Lee Pelton is the 12th president of Emerson College in Boston. He is a nationally and internationally known speaker and writer on the value of a liberal education and the importance of leadership development, civic engagement, and diversity in higher education. He previously served as the president of Willamette University for 13 years.
Since arriving at Emerson, Pelton has outlined a bold vision for Emerson as the global hub for arts, communication, and liberal arts. The College has begun to expand its academic footprint beyond its campuses in Boston, Los Angeles, and the Netherlands by establishing Global Portals on several continents. Emerson's Global Portals will partner with institutions abroad so that students without U.S. passports might matriculate to and graduate from Emerson through a variety of academic programs and disciplines.
Recently, he has established an ambitious plan to redevelop downtown Boston and strengthen Emerson's sense of place and identity by animating the streetscape in the downtown core in order to inspire, embrace, and celebrate our Boston's emerging diversity.
Pelton began his academic career at Harvard University, where he earned a PhD in English literature with an academic focus on 19th-century British prose and poetry. He taught English and American literature at Harvard and served as senior tutor at Winthrop House. He later served on the Harvard Board of Overseers and as a vice-chair of its executive committee. After Harvard, Pelton served as dean of the college at Colgate University and Dartmouth College.
He has been featured in the New York Times, the Boston Globe, The Presidency magazine, the Chronicle of Higher Education, Color Magazine, Diverse: Issues in Higher Education, Diversity Journal, and countless newspapers in America and abroad. He has been a guest on National Public Radio (NPR) as well as on an NPR Boston affiliate radio station, WBUR, and PBS affiliate television station, WGBH. He has received honorary degrees from the Urban College of Boston and Tokyo International University.
Over the years, Pelton has been active in several higher education associations and cultural organizations including the Board of Directors of the American Council on Education (past chair), the National Association of Independent Colleges and Universities, the Association of American Colleges & Universities, and the Museum of African American History (Boston). In addition to his service as a Harvard Overseer, he has served as a member of the Harvard University Graduate School Alumni Council, the Advisory Committee on Shareholder Responsibility, Harvard Magazine, Board of Incorporators, and several Harvard Visiting Committees.
He also serves on the Board of Directors for the Boston Chamber of Commerce (executive committee); Boston Arts Academy Foundation Board (chair); the Boston Municipal Research Bureau; Facing History and Ourselves; WGBH; and the Barr Foundation, one of the nation's leading philanthropic organizations, with more than $1.8 billion in assets.