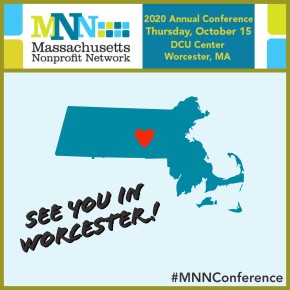 The 2020 Annual Conference, one of the largest annual gatherings of nonprofit professionals in the state, wlll take place on Thursday, October 15, 2020 at the DCU Center in Worcester, MA.
The DCU Center will provide even more networking and exhibition space for conference attendees. In addition, the Center is easily accessible to all regions of the state, including public transportation via the MBTA Framingham/Worcester Commuter Rail and car transportation via Route 9 and the Mass Pike via I-290.
As in previous years, the 2020 conference will offer hundreds of nonprofit professionals a space to learn new skills, share best practices, and build their networks, and will include:
Workshops
The workshops will cover a variety of topics for every stage in a nonprofit career, from fundraising to strategies to address equity, diversity, and inclusion in a nonprofit organization.
Networking Opportunities
Over 600 conference attendees come to the MNN conference to leverage collective experience and expertise of hundreds of professionals while building lasting connections. Exhibitors will display their services and products to help nonprofits strengthen their work.
2020 Lifetime Achievement Award Winners
Two nonprofit sector legends from Massachusetts will be awarded the 2020 Lifetime Achievement Awards.
MNN will share additional information about the 2020 conference in the coming months. Contact Madeleine Morgan with any immediate questions.