By YW Boston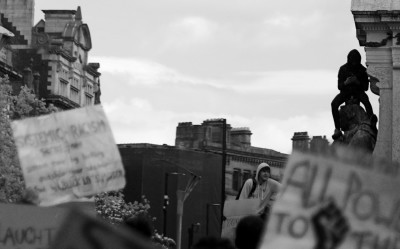 As nonprofits, we dedicate ourselves to a mission larger than ourselves, our immediate geography, and our moment in time. In order to meet our organization's goals, internally and externally, it is necessary for us to gain an understanding of how inequitable systems have created and perpetuated violence in our communities. Inequitable systems that have propagated violence against people of color, and Black people in particular, continue to influence all realms of American life, including education, healthcare, housing, and beyond. By naming inequities as violence, we can better commit to creating truly nonviolent organizations.
YW Boston recently facilitated the workshop titled "Understanding Inequitable Systems as Violence" and in it we provide historical context to help foster a better understanding of U.S. history and how inequitable systems came to be. We also provide strategies and pathways for organizations looking to make a positive change:
What is collective violence and how does it manifest itself in the world around us?
Violence is defined by the World Health Organization as "The intentional use of physical force or power, threatened or actual, against oneself, another person, or against a group or community, that either results in or has a high likelihood of resulting in injury, death, psychological harm, maldevelopment or deprivation." Collective violence specifically refers to violence enacted upon members of a group against another group or set of individuals.
Collective violence can be broken down into three categories; social, economic, and political. While social violence can be seen in mass incarceration rates and funding for both school districts and housing, political violence can be seen in redistricting, voter ID laws, and disenfranchisement. Economic violence can be best understood when looking at the most recent financial crisis where predatory lending, subprime mortgages, and unemployment was disproportionately affecting people of color. It is important for nonprofits to consider how these inequities manifest themselves today and the ways in which they interact with our work.
What can nonprofits do to take action?
We often hear how important it is to "take action" but it can be difficult to know exactly what to do. Non-violence is not just about which actions to avoid, but also about what we are going to do about the violence and injustice present in our society.
For an organization to become more diverse and equitable, and to create an inclusive culture, change has to encompass all areas within the organization. For organizations to create lasting change, we suggest a focus on the following seven pillars:
Buy-in from leadership
Regular working groups with various perspectives
Diversity within decision-making structures
Shifting toward unbiased hiring, retention, and promotion systems
Examining all practices and systems within the organization for inequities
Defining and finding intention around the culture of the organization
Allocating resources to support the change you are trying to achieve
Learn more about the history of systemic racism and about strategies for organizational change by accessing a recording of YW Boston's workshop.
Photo credit: Sushil Nash
___
About YW Boston
As the first YWCA in the nation, YW Boston has been at the forefront of advancing equity for over 150 years. Through our DE&I services—InclusionBoston and LeadBoston—as well as our advocacy work and youth programming, we help individuals and organizations change policies, practices, attitudes, and behaviors with a goal of creating more inclusive environments where women, people of color, and especially women of color can succeed.
As part of that work, we are helping organizations prioritize Diversity, Equity & Inclusion and become socially connected while staying physically distant. During this time, YW Boston is providing organizations with digital workshops and resources to help them better understand the challenges faced by their employees. For more information, please contact Sheera Bornstein at sbornstein@ywboston.org.