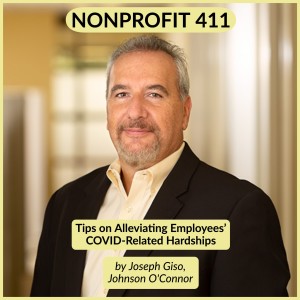 By Joseph M. Giso, CPA MST
The Internal Revenue Service declared the COVID-19 outbreak to be a "qualified disaster," thereby generating more favorable tax benefits for both employers and employees.
QUALIFIED DISASTER RELIEF PAYMENTS
The declaration of a "qualified disaster" excludes from a taxpayer's gross income certain payments to reimburse or pay for expenses related to a qualified disaster (i.e., "qualified disaster relief payments," or QDRPs). In an employee-employer relationship, compensation is usually considered taxable for the employee and a deductible business expense for the employer.
ASSISTANCE THROUGH EXISTING CHARITABLE ORGANIZATIONS
All existing charitable organizations can operate an employee assistance program (EAP) provided they abide by certain provisions and documentation, as described below.
Charitable Class
The IRS defines a "charitable class" as "the group of individuals that may properly receive assistance from a tax-exempt charitable organization. A charitable class must be large enough or sufficiently indefinite that the community as a whole, rather than a preselected group of people, benefits when a charity provides assistance."
The IRS adds, "If the group of eligible beneficiaries is limited to a smaller group, such as the employees of a particular employer, the group of persons eligible for assistance must be indefinite. … The proposed relief program must be open-ended and include employees affected by the current disaster and those who may be affected by a future disaster [emphasis added]."
Needy or Distressed Test
Eligible beneficiaries must be selected based on an objective determination of need, and the charitable organization must maintain adequate records demonstrating the recipients' need for the disaster assistance provided.
Documentation
As the IRS explains, the documentation should detail:
The nature of the assistance provided
The costs of providing the assistance
Why the aid was given
Members of the selection committee approving the assistance
Objective criteria for disbursing assistance
How the recipients were selected
Each recipient's name and address
The amount disbursed to each recipient
Any relationship between a recipient and officers, directors or key employees of, or substantial contributors to, the charitable organization
Selection Process
An independent selection committee must choose the recipients, or adequate substitute procedures must be in place to ensure that any benefit to the employer is incidental. The selection committee is considered independent if a majority of its members are not in a position to exercise substantial influence over employer affairs.
ASSISTANCE THROUGH EXISTING DONOR ADVISED FUNDS
Certain community foundations and other public charities maintain separate funds or accounts to receive contributions from individual donors. These donors then receive advisory privileges over investment or distribution of the donated funds. These organizations are known as donor advised funds (DAFs).
A donor advised fund or account established by an employer to assist in "qualified disasters" can make grants to employees and their family members based on the criteria established for public charities and under the following circumstances:
The fund serves the single identified purpose of providing relief from one or more qualified disasters.
No payment is made from the fund to or for the benefit of any director, officer or trustee of the sponsoring community foundation or public charity or any members of the fund's selection committee.
ASSISTANCE THROUGH EXISTING UNRELATED EMPLOYEE ASSISTANCE CHARITABLE ORGANIZATIONS
An employee assistance fund (EAF) can be established as a public charity.  An EAF charity is an independent public charity with an exempt mission or purpose to provide emergency, need-based financial assistance to an employer's workforce. It can maintain its public support requirement under the Internal Revenue Code because it receives donations from a variety of companies and their employees who sign up for their services. Unlike a DAF, an EAF charity can provide assistance to eligible individuals in response to any type of disaster or emergency employee hardship.
Using an EAF charity partner provides several benefits to the organization, including:
Allows the organization to offer a comprehensive program covering a wide range of financial hardship situations to the company and the employee.
Eliminates the administrative burden required to implement and manage an EAF.
Allows an objective third party to review applications and approve grants, providing anonymity to the applicant and protecting employees' private information. This minimizes risk to both employees and the organization.
SUMMARY
QDRPs are a very complicated area of tax law. But with the right vehicle and program, an organization can provide much needed relief to employees in times of hardship.
Joseph Giso CPA, MST
Partner
Joe has more than 30 years of experience working with nonprofit organizations in the human services, healthcare, education, and cultural sectors. Joe provides tax consulting services that are dedicated to improving the accountability and efficiency of tax-exempt organizations, including counseling on compliance with federal, state, and local agencies. Additionally, he has expertise in the area of organizational tax and reporting compliance. Joe is a member of the AICPA & MSCPA.