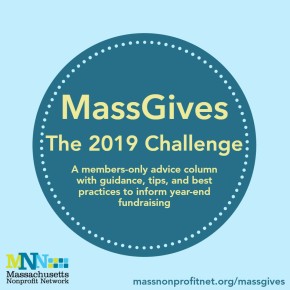 The landscape of the end-of-year fundraising drive in 2019 looks noticeably different than it did in previous years. These changes are due in part to the increased use of technology in the ways that donors give and the challenges–and opportunities–posed by federal tax reform that impact the ways donors give, particularly middle-income donors who are itemizing less frequently and therefore losing the federal tax benefit associated with their donations.
While most nonprofits are already deeply engaged in their end-of-year fundraising appeals, they are also looking ahead to the new year and considering which effective strategies to use. The last edition of MassGives: The 2019 Challenge offers an easy-to-use tip sheet for nonprofit fundraisers as they plan their work for 2020.
Educate yourself on other tax incentives, and help your donors use them in 2020. Depending on their age and financial position, individuals that lost the annual federal tax write-off may still realize financial benefits to charitable giving in other ways. For older donors, Qualified Charitable Distribution (QCDs) may restore a tax benefit for giving: people who hold Individual Retirement Accounts (IRAs) are required to take required minimum distributions (RMDs) each year beginning at age 70 ½. Donors can fulfill their RMD by a direct transfer of up to $100,000 to charity. Similarly, donor-advised funds may reinstate a donor's monetary incentive to give. A donor-advised fund is a charitable giving vehicle administered on behalf of organizations, families, or individuals that allows donors to give, receive an immediate tax deduction, and recommend grants from the fund over time. Nonprofit fundraisers should start learning about these giving vehicles now so that they can effectively market their benefits to the right groups of donors in 2020
Segment donor lists and target solicitations based on factors such as age, interests, and income. Oftentimes fundraisers at smaller organizations don't have data on the particulars of their donors. Now is the time to start collecting and recording this information to build separate lists, as a successful fundraising appeal looks different based off of these and other factors. For example, younger donors of the Millennial and Gen Z generations may be better reached through a mobile-centric or a peer-to-peer/crowdfunding campaign.
Treat your volunteers like potential donors. While national statistics indicate that individual giving may be on the decline, studies show that volunteerism is on the rise, particularly among younger generations. Many nonprofits unintentionally miss potential financial support offered by volunteers, simply by separating them from donor solicitation lists, assuming that they are donating time instead of money. In reality, volunteers are more likely to give to organizations that they know, understand, and care about. In addition, today's young volunteers are likely to become tomorrow's larger dollar donors as their earning potential grows. Nonprofits should treat volunteers as a reliable segment of individual donors.
Begin creating an organizational culture of philanthropy to involve all with the work of fundraising and a sense of shared responsibility. Nonprofit fundraisers can start laying down the appropriate groundwork to get buy-in from organizational leadership, educate staff on the basics of fundraising, and involve front-line staff in the fundraising process.
Focus on the mission and the stories you tell. Regardless of tax policy or new technologies and ways to reach people, the vast majority of people give to nonprofits that they feel a strong conviction to support, or a personal connection to their mission. Strengthening storytelling in 2020 should be a top priority.
While the fundraising landscape may look uncertain, using one or all of these strategies can better position nonprofits to see gains in their giving in 2020 and beyond.