By YW Boston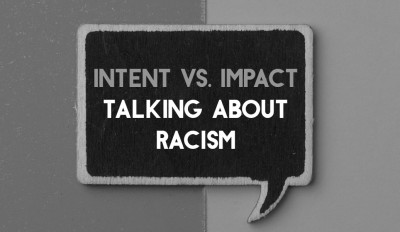 Talking About Racism at Work: How Nonprofits Can Foster More Inclusive and Supportive Workplaces
Whether or not your organization has made a public commitment condemning racism and committing to greater racial equity, as a nonprofit leader you may be wondering, "Should my team be engaged in more conversations about race and racism?" And if so, "How do I make those conversations productive?" We recognize that racism and other oppressive systems are institutionalized, and that this makes racism within organizations difficult to dismantle. Racial equity is not achieved by engaging in short-term actions and requires long-term commitment and hard work. Even within nonprofit organizations, modern-day standards of "professionalism" may encourage employees not to talk about racism and can make it hard to identify next steps. For nonprofits limited by capacity, resources, and the inexperience of looking internally to engage in anti-racism work, conversations about racism and seem daunting and could lead to greater harm for Black staff and employees of color.
As YW Boston continues to partner with organizations looking to create lasting change and improve their workplace cultures, we have gathered some considerations that can help those hoping to talk about racism for the very first time:
Before engaging in org-wide conversations, consider who you are reaching out to and why
Many interventions start with internal conversation amongst the organization's executive team, followed by the identification of strengths and growth areas that then lead to action planning. This approach seems practical—identify a problem, assess the problem, identify a solution, implement the solution. When thinking about organizational change through a racial equity lens, additional considerations and more careful planning are necessary in order to prevent exacerbation or perpetuation of the challenges you are trying to address.
Instead, utilize a different framing when your organization is in these early stages of the conversation. It is important to assess your organization's intentions, current impact, and intended future impact. 
Intentions: Ask yourselves, "why does my organization want to address racism and engage in DEI work?" Are you responding to external pressure from your stakeholders, funders, or constituents? Are you responding to internal employee feedback? Are you reacting to a national crisis? Are you hoping to improve and evolve organizational values?
Impact: There is a difference between our intentions, aspirations, and how we want to be perceived vs. the impact of our action/inaction and the harm we may be causing or allowing to continue. Racism is not just an ideology or prejudice, it is currently and has been historically embedded into institutions and systems that impact our workplace and employees, such as housing, education, healthcare, technology, and more. For that reason, it is not just unlikely, but impossible that racism does not play a part in our society, including our workplaces. It's important that we don't assume our nonprofit organizations are exempt from racism, otherwise, we can miss its impact on employees, stakeholders, and the organization's bottom line.
Intended impact: As you learn more, your intended impact may also evolve. What is the change you wish to achieve? What does "success" look like and for whom? Who will be involved and be held accountable for this work? What outcomes do you wish to achieve? All of these questions will inform your action planning and decision making. It is important to consider here the relationship between intentions and impact. For example, you may intend to improve organizational culture by launching new DEI initiatives but end up overtaxing employees of color by asking them to lead or contribute to this work when it is not part of their job description. In other cases, conversations about racism may cause more harm if your facilitators do not have sufficient experience leading conversations through stress and trauma.
If you would like to access more resources about anti-racism and diversity, equity, and inclusion at work, refer to our Racial Justice and Diversity, Equity, and Inclusion Resources.
___
About YW Boston
As the first YWCA in the nation, YW Boston has been at the forefront of advancing equity for over 150 years. Through our DE&I services—InclusionBoston and LeadBoston—as well as our advocacy work and youth programming, we help individuals and organizations change policies, practices, attitudes, and behaviors with a goal of creating more inclusive environments where women, people of color, and especially women of color can succeed.
As part of that work, we are helping organizations prioritize Diversity, Equity & Inclusion and become socially connected while staying physically distant. During this time, YW Boston is providing organizations with digital workshops and resources to help them better understand the challenges faced by their employees. For more information, please contact Sheera Bornstein at sbornstein@ywboston.org.