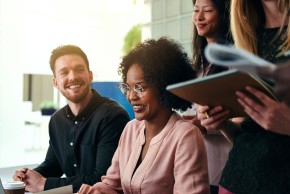 The last edition of Our Shared Sector described the differences between each part of the "DE&I" Acronym–diversity, equity, and inclusion–and explained how the differences between each requires distinct approaches in improving them at an organization. This edition focuses on steps that nonprofits can take to weave the principles of diversity, equity into their organizational cultures.
Diversity
Increasing diversity within an organization most often means working with the Human Resources team, and any others in charge of hiring and promotion. It may mean creating or adjusting your hiring handbook or including language in job postings that indicate that people of color, women and non-binary individuals, those with disabilities, etc. are encouraged to apply.
Equity
By focusing on equity, an organization addresses all aspects of their work with an understanding that not all employees or potential employees have access to the same resources. Using an equity lens means asking questions such as: "Where are you posting the job description? Is the language accessible? Are you listing skills that allow other people to apply?" For example, you may recognize that while a job description states, "Master's degree preferred," not all prospective employees have had access to graduate education, so it is worth evaluating comparable skills sets for the job, such as experience working in the community.
Utilizing an equity lens means realizing that people of less privileged backgrounds often do not enter an organization with the same resources as their privileged counterparts. Therefore, it is equitable to provide them with additional support, such as providing them with professional development opportunities. Additionally, an equitable lens recognizes that leadership must ensure that white people and men are contributing to inclusion and are committed to change on an institutional level.
Inclusion
Inclusion works to create a welcoming work culture–one where individuals of all identities and racial and ethnic backgrounds feel that they are being supported and able to succeed. One strategy many workplaces employ is creating an Inclusion Committee. Committees such as these work with senior leadership and provide a space for individuals to brainstorm how to better support people of color and women in all levels.
What's the next step?
Even after understanding the differences in Diversity, Equity, and Inclusion, actually putting a plan in place can feel daunting.
Keep these three pieces of advice in mind during your DE&I journey:
It takes time. DE&I work is an ongoing process that will require both time in employees' work schedules and a long-term plan that the organization commits to seeing through.
This is not easy work. People are not used to discussing equity in the workplace, and it is going to be hard to get everyone on board. That is why leadership buy-in is so crucial–support from the top can provide needed guidance to the entire organization.
There is no "right way" to do equity work. Each organization must come up with a plan to address their particular workplace dynamics and opportunities.
Consider reaching out to experts to ensure your organization makes the space and time to create meaningful cultural change.
About YW Boston
As the first YWCA in the nation, YW Boston has been at the forefront of advancing equity for over 150 years. Through our DE&I services—InclusionBoston and LeadBoston—as well as our advocacy work and youth programming, we help individuals and organizations change policies, practices, attitudes, and behaviors with a goal of creating more inclusive environments where women, people of color, and especially women of color can succeed.