By YW Boston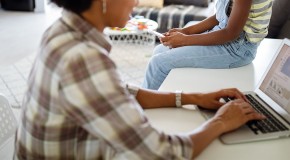 Physical distancing policies established to help flatten the COVID-19 curve have unearthed the disparate impact that this pandemic has on employees within the same organization. Some staff cannot work from home. Others, whose primary responsibilities relate to direct service, face increased safety risks. Many parents, especially women and women of color, are juggling childcare and eldercare responsibilities while still putting in a full day's work.
As soon as Americans became worried about COVID-19, we saw an increase in physical and verbal assaults against Asians and Asian Americans. Studies show that ecological threats exacerbate people's prejudice against perceived outsiders and economic downturns increase prejudice against people of color. When a majority of our population gives into this "scarcity Mindset", those with fewer resources are hit the hardest. Nonprofit organizations must stay vigilant to ensure equitable outcomes. We are already seeing how this pandemic disproportionately affects low-resource and at-risk families. For instance, many part-time and hourly-wage workers' hours are being cut dramatically, while others are being laid off. As we see this pandemic cause a widespread economic downturn, we need to recognize how structural racism causes more severe consequences for people of color. Inequality persists during recessions, including the fact that as unemployment rose in the last recession, the severity of workplace discrimination did, too. Times of global uncertainty and fear can trigger automatic responses such as implicit bias.
Nonprofits may be facing additional hardships due to interruptions to programming and fundraising. Yet it is as important as ever for nonprofits to maintain their people-centered approach. We must prioritize ensuring the safety and wellbeing of our own employees and constituents. Leaders should avoid making assumptions and provide appropriate support to employees. Although we are going through a shared experience as a nation and as organizations, not everyone shares the same access to resources and safety nets. Being an inclusive leader during times of uncertainty requires flexibility, transparency, and proactive communication.
About YW Boston
As the first YWCA in the nation, YW Boston has been at the forefront of advancing equity for over 150 years. Through our DE&I services—InclusionBoston and LeadBoston—as well as our advocacy work and youth programming, we help individuals and organizations change policies, practices, attitudes, and behaviors with a goal of creating more inclusive environments where women, people of color, and especially women of color can succeed.
During this time, YW Boston is providing organizations with digital workshops and resources to help them better understand the challenges faced by their employees. As part of that work, we are helping organizations become socially connected while physically distant.