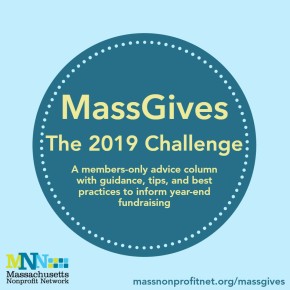 By Danielle Fleury, Director of Government Affairs

Thoughtful, strategic, and well-executed year-end charitable giving campaigns have long been a central element in nonprofit fundraising. But as we head into the final quarter of 2019, the picture looks a bit different.
Historically, about 30% of annual giving occurs in the month of December. As the days get shorter and summer draws to a close, tips and best practices to ramp up year-end giving start to circulate. Many nonprofits begin to plot out their donor outreach and solicitation strategies to capitalize upon the key several week stretch that unfolds at the end of the calendar year: when individuals are thinking about charitable giving around the holiday season as well as their tax incentives for the year.
Nonprofits are facing new challenges in encouraging individual giving due to changes in tax policy. The 2017 federal tax reform law made sweeping changes to the way that individuals file their taxes. It nearly doubled the standard deduction, and capped the amount of state and local taxes (SALT) that can be deducted on federal taxes. These changes mean that a significant number of filers – especially middle-income earners – will no longer itemize their deductions. As a result, they no longer receive a federal tax break for their charitable contributions.
Early indicators show that tax reform has likely already dampened individual giving: a report from the Giving USA Foundation released this summer showed a $3.21 billion drop ($10.4 billion adjusted for inflation) in individual donations in 2018. The trend in 2019 may be worse. Many donors didn't realize they had lost their charitable giving tax benefit until this past April when they filed their returns.
What does that mean for nonprofits? Thoughtful year-end giving strategies and individual donor engagement are more important than ever. As the calendar year draws to a close, there are several key strategies that can help nonprofits redouble their fundraising push over the next few months.
Help donors use other tax incentives: Individuals that lost the annual federal tax write-off that they are accustomed to may still realize financial benefits to charitable giving in other ways. Some donors can restore their charitable deduction via non-cash donations (e.g. mutual fund shares) into donor-advised funds, qualified charitable distribution (QCD) donations from IRAs, or by compressing multiple donations into one year.
Reinforce the mission: With many individual donors losing their tax incentive to give, it is more important than ever that nonprofits appeal to donor altruism. Nonprofits can double down on efforts to tell their story and make people feel connected to their mission. Infographics can highlight key deliverables for a broad audience, and personal stories can communicate the impact of nonprofit services.
Segment donor lists: Individuals give for different reasons and in different ways, and it is important for nonprofits to tailor solicitations accordingly. Millennials are more likely to respond to online campaigns, while older donors may prefer to receive an annual appeal letter through a traditional mailing campaign.
Engage volunteers: Nonprofits may think of volunteers as those who contribute through service because they are unable or unwilling to donate financially. But studies show that volunteers are twice as likely to donate. They understand a nonprofit's value and have seen it firsthand in action; it is important to engage volunteers as donors.
Over the next three months, MNN will continue to provide guidance, tips, and best practices to help inform nonprofit year-end giving strategies. Nonprofits are encouraged to share input and direct experiences that can help address the unique challenges that we face in 2019. Please visit massnonprofitnet.org/massgives to find resources, and to submit proven strategies that have worked to bolster donor engagement and year-end giving.