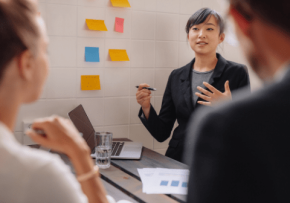 By YW Boston
Many of us have been feeling frustrated and wondering how we can do more. You may have wondered; how do you push your nonprofit organization to become equitable and inclusive? Don't.
The work can't be pushed, but intentioned, built, iterated upon, and built again. At the center of DEI is relationships and how they affect culture. If we default to pushing, we risk losing sight of the efficacy that is available to us and begin treating our colleagues like shadows in the night. So don't push. Set clarified intent, be honest, and build.
Before you can start, determine whether your motivations are authentic, basically whether you are personally and professionally connected to progress. Ask: Why do I want this? Who am I concerned enough for that when they are challenged, I also feel challenged? Once you've gotten clear on whether or not your sense of urgency is authentic, it's time to assess your environment.
Know how to work with an obstructive bystander.
It is easy to mistake someone in your way for someone standing in opposition. Those who are in the way, an obstructive bystander, haven't recognized how ''the work" is good for them, too. They are more motivated to protect their social/financial/professional position. It will take time before they can authentically see themselves in the suffering of others and this can't happen on anyone else's timeline but their own. For these folks, teach them how not to stand in the way and lean heavily on the things you appreciate about them.
Utilize your power to create community.
Build relationships with like-minded people at work and build excitement around the things you all care about. Find ways to hold court. Make an announcement at a staff meeting about a group lunch with a topic aimed at thinking critically about DEI. Try on each other's perspectives with engaging activities. The shared excitement and welcoming vibe of the group is your best chance at motivating others, where they can begin to contribute to changing organizational culture.
What should I do if I am a leader?
Leaders should focus on being solicitors and facilitators of information. Provide space and time, while actively gathering resources and capital to rally institutional support in the form of professional development, employee resource groups, inclusive practices, norms building, and retention.
To remain anchored into your goals:
Be honest with yourself and others about your ideas and why you want them to come to fruition.
Be reflective and open to change.
Name harm when you see it and offer up human connection in its place.
Build community.
It takes time and concerted effort to succeed in organizational change, and that is why you cannot simply push. Instead, create spaces that encourage listening and collaboration. In doing so, more of your colleagues will discover why it is critical to their own well-being and success to prioritize DEI.  And with more people authentically engaged, you will be able to work together to see the change you've been looking for.
____
About YW Boston
As the first YWCA in the nation, YW Boston has been at the forefront of advancing equity for over 150 years. Through our DE&I Services—InclusionBoston and LeadBoston—as well as our advocacy work and youth programming, we help individuals and organizations change policies, practices, attitudes, and behaviors with a goal of creating more inclusive environments where women, people of color, and especially women of color can succeed.
As part of that work, we are helping organizations prioritize Diversity, Equity & Inclusion and become socially connected while staying physically distant. During this time, YW Boston is providing organizations with digital workshops and resources to help them better understand the challenges faced by their employees. For more information, please contact Sheera Bornstein at sheera@ywboston.org.