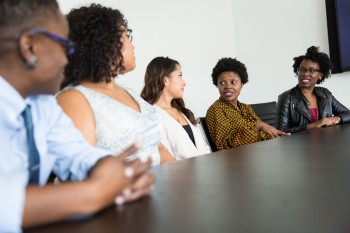 By YW Boston
Many nonprofits beginning their commitment to diversity, equity, and inclusion (DEI) start with holding a workshop. A workshop can be the start, but it should not end there. As Sharon Maylor Ph.D., YW Boston's Organizational Development Manager, explains, "If you are looking to frustrate your staff, only do a workshop. They will ask 'what's next?'"
Sharon works with organizations as they develop and implement their DEI action plans. She also supports with facilitating workshops. So, we sat down with her to get a clear picture of when workshops can be beneficial to an organization, and why they must always be followed by longer-term commitments.
Workshops can help created shared language.
In order for staff to be effective in their DEI initiatives, everyone must have some level of proficiency in topics of equity and inclusion. Workshops serve to create this shared language among staff, and to facilitate communication between staff members around this language. For instance, in a workshop on social identities, participants learn about the identities they hold and how they impact their work life. By having a baseline understanding together, staff members can feel confident driving DEI work together in the future.
Workshops cannot provide all of the knowledge or skills your staff needs.
The most common feedback participants share after workshops is that there was simply not enough time. Each workshop includes time for staff to discuss where their organization is in their DEI journey, and how they can apply what they've learned. This only scratches the surface of how deeply workshop participants need to assess their own organization. If there are no next steps planned, employees will return to their workflow silos without continuing their work.
Organizations will benefit from creating spaces where their staff can continue to learn together and can spend the necessary time evaluating gaps in their organizations' DEI. They can build on the shared language they've learned during the workshops. This dedicated time results in a staff ready to create and implement a DEI action plan. Participants begin to connect the dots between their organization's needs and their power to make change.
Should my nonprofit host a workshop?
To help you decide whether your organization should participate in a workshop, determine what you are trying to solve. If you want to ensure that your staff knows about DEI terminology, a workshop can help you get there. A workshop can also help you demonstrate to your organization that there is an appetite to do this deeper work.  If you are looking to create an effective DEI plan, you won't find it with one or even a series of workshops. Don't use workshops as a way to signal commitment when your organization hasn't planned any further action steps.
Instead, ensure you set aside the time it takes to understand your organization's needs, build trust, and implement an action plan. Workshops may fill a need within this long-term plan, but you must make it clear to staff that your nonprofit's time investment is action-oriented and ongoing.
____
About YW Boston
As the first YWCA in the nation, YW Boston has been at the forefront of advancing equity for over 150 years. Through our DE&I services—InclusionBoston and LeadBoston—as well as our advocacy work and youth programming, we help individuals and organizations change policies, practices, attitudes, and behaviors with a goal of creating more inclusive environments where women, people of color, and especially women of color can succeed.
As part of that work, we are helping organizations prioritize Diversity, Equity & Inclusion and become socially connected while staying physically distant. During this time, YW Boston is providing organizations with digital workshops and resources to help them better understand the challenges faced by their employees. For more information, please contact Sheera Bornstein at sheera@ywboston.org.