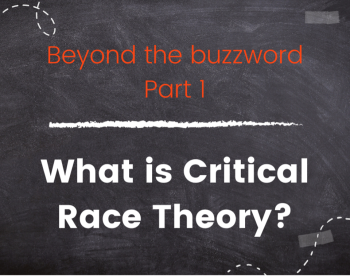 By YW Boston
Critical Race Theory is the buzzword of summer 2021. But what is it? Critical Race Theory (CRT) emerged out of critical legal studies in the 1970s and 80s. Legal scholars sought to explain, "Why has equal protection under the law not led to equal outcomes or opportunities for Black people?" They theorized that the law could never be race neutral, but instead was shaped by those who held power.
Over the past year, nonprofits have demonstrated an increased interest in understanding systemic racism and taking anti-racist action. Dr. Sarah Faude, YW Boston's Director of Research and Evaluation, is trained in Critical Race Theory. During the first part of this piece, we speak with Dr. Faude about the theory and why it has been misunderstood.
What are the key features of Critical Race Theory?
Below are a few of the key elements as they are laid out in the introduction of Words that Wound:
Racism is ordinary and everywhere. We can move beyond debating if it exists and instead focus on better understanding how institutions support it (and how we can choose alternative paths).
Be skeptical of neutrality, colorblindness, and meritocracy. CRT encourages us to dig deeper. Who created these narratives?
Context matters. CRT encourages a historical reading of the law and the world.
Value experiential knowledge. The dominant narratives misrecognize the experiences of people of color. Counternarratives provide other explanations.
The goal is eliminating racial oppression. When we look intersectionally, like YW Boston does, we see that systems of oppression overlap and intersect. CRT argues that race is at the center of those intersections.
How is this different from learning about the history of racism?
Well, it is, and it isn't, depending on how you learn the history of racism and what areas you're studying. If you're reading up on the history of racism in the law, then it's likely you're engaging with Critical Race Theory or communities of scholars who've read it. "Critical" is often a signal that there's an interest in talking about power.
Critical Race Theory is a particular thing that has come to represent many things beyond it. The current conversation on Critical Race Theory is a resistance to nuanced conversations on how race and racism have been central to our history and culture in the US. Once we take a deep breath and look squarely at that history, we can get to work.
What about Critical Race Theory makes people nervous?
People are nervous because it can feel risky. If you're somebody who has built a successful career without having to name racism, its history in your life and workplace – there is a lot of reflecting and learning to do. Doing that work is hard and can't be done overnight. It's risky because it requires vulnerability. We believe that organizations are now in a place where they are realizing the risk of not talking about race and racism and how it impacts everything including their constituents, employees, and communities.
About YW Boston
As the first YWCA in the nation, YW Boston has been at the forefront of advancing equity for over 150 years. Through our DE&I services—InclusionBoston and LeadBoston—as well as our advocacy work and youth programming, we help individuals and organizations change policies, practices, attitudes, and behaviors with a goal of creating more inclusive environments where women, people of color, and especially women of color can succeed.
As part of that work, we are helping organizations prioritize Diversity, Equity & Inclusion and become socially connected while staying physically distant. During this time, YW Boston is providing organizations with digital workshops and resources to help them better understand the challenges faced by their employees. For more information, please contact Sheera Bornstein at sheera@ywboston.org.