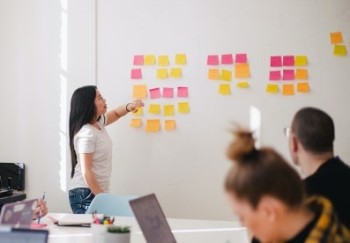 By YW Boston
During the summer of 2020, we saw many organizations supporting diversity, equity, and inclusion (DEI) work. Finally, it was not enough to provide nominal support – nonprofit staff and constituents brought these topics forward and demanded real change. Toward the end of the year, we started to see this momentum wane. Last summer, it was hard to ignore what was right in front of us – two interlocked pandemics, COVID-19 and systemic racism. And our president at the time did not consider either to be a major concern.
Now that we have had a transition of power in the White House and the COVID-19 vaccine rollout is picking up speed, we have to ensure we don't step away from our commitments. And as more organizations express their support of the Asian American Pacific Islander Community, we have to ensure we stay accountable to these public statements. While it may feel like we are reaching the end of a particularly dark year, remember that the inequities that made this time difficult still permeate our institutions. Now we must recognize: by committing to DEI, we will strengthen our work toward our missions, too.
This past year helped many leaders come to realize that aspects of their employees' lives, such as their family's needs or their racial identity, are not shed when they start working. These lived experiences can impact how secure people feel working at an organization, and leaders should meet any concerns with acknowledgment, empathy, and action. Strong leaders will take much of what they learned this past year forward. They will hold difficult workplace conversations and allocate resources to support employees.
While we saw a burst of energy and enthusiasm for DEI work last summer, now may actually be the best time to get organized. Anouska Bhattacharyya Ph.D., YW Boston's Director of InclusionBoston, explained that, "There was a real haste last summer that meant folks wanted to show they were anti-racist RIGHT NOW. Rushed inclusion often leads to exclusion!" There is no one-size-fits-all solution for DEI work. Successful organizations are pacing the work with a "greater understanding that sustainable and equitable practices need to be baked into their daily praxis."
Be sure to integrate time for research and reflection. One of the strengths of our InclusionBoston program is the space it provides for organizational assessment and relationship building. This provides a strong base of trust and understanding on which to build a successful plan. Once it is time for action-planning, we at YW Boston recommend following a SMARTIE plan. Evaluation is crucial throughout the entire process to understand your baseline and growth.
Remember, Anouska says, that there will be hiccups along the way which are an opportunity to find your growing points: "Hiccups are an opportunity for you to recruit more of your team into the solution. The greater the buy-in across your staff, the greater your successes." By working through these stuck points, organizations will build the skills necessary to ensure their DEI work continues to deepen and grow.
____
About YW Boston
As the first YWCA in the nation, YW Boston has been at the forefront of advancing equity for over 150 years. Through our DE&I services—InclusionBoston and LeadBoston—as well as our advocacy work and youth programming, we help individuals and organizations change policies, practices, attitudes, and behaviors with a goal of creating more inclusive environments where women, people of color, and especially women of color can succeed.
As part of that work, we are helping organizations prioritize Diversity, Equity & Inclusion and become socially connected while staying physically distant. During this time, YW Boston is providing organizations with digital workshops and resources to help them better understand the challenges faced by their employees. For more information, please contact Sheera Bornstein at sheera@ywboston.org.