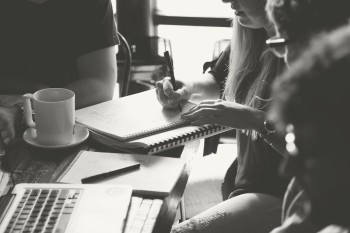 By YW Boston
Over the past year, living and working in the midst of a pandemic, mourning the loss of many more Black lives to racism and anti-Blackness, and witnessing a violent insurrection on the U.S. Capitol, many nonprofit leaders have had to re-examine what it means to be an effective leader. In the face of unprecedented and compounding challenges, nonprofits are more aware than ever of the importance of instilling inclusive communication skills within their organizations. Leaders, tasked with supporting and guiding people who hold a variety of social identities and personalities, bear an especial responsibility when it comes to communication and accounting for the diversity within their teams.
Understand how social identities impact communications
Social identities inform how we experience life, including the workplace. At YW Boston, we define identity as "the way an individual thinks about themself, the way they are viewed by the world, and the characteristics that define them." Social identities include race, gender, age, ability, sexual orientation, religion, immigration status, class. What's more, these identities intersect and create compounded advantages and disadvantages. The exploration of social identities is invaluable for leaders, given that these identities not only impact how we are perceived by others but how we perceive ourselves.
Beware of communication blockers
"Yes, but…" is one of the most reliable ways of derailing conversations and leaving others feeling unheard. Stealth "buts" also include:
"I understand where you're coming from… However,"
"I see your point… Nevertheless,"
"That may be true… On the other hand,"
"You could say that…only,"
"You're right…it's just that,"
In order to combat the use of stealth "buts" and their derivatives, it's important to begin building awareness around when these communication pitfalls come up and how often we use them. When we challenge ourselves to use different language, we begin to notice when and how our implicit attitudes occur. Try shifting from "buts" to "builds" by building upon the person's idea before adding your own thoughts or before asking a question. Your questions should reflect curiosity and interest, not a desire to persuade or "poke holes" in an argument. If you wish to state your disagreement with what someone says, do so explicitly and respectfully.
Be cautious of mind-reading
Mindreading describes instances when we try to infer what other people are thinking without seeking clarification. Mindreading can cause us to form opinions or act upon assumptions. It is a significant barrier to effective communication as it can further entrench misunderstandings. Below are some signs that can help you identify if and when you are mindreading, so that you can disrupt the cycle:
You spend more time imagining than having real conversations.
You spend more time talking about others than to them.
What you think others are not saying affects you most.
You often wonder what others think of you.
You think others aren't telling the whole truth.
Many things people say tend to bother you.
Others often remind you of someone you know or once knew.
It's essential for nonprofit leaders to understand how social identities and the internalized and externalized assumptions that accompany them influence our communications. Only then can leaders and organizations be fully equipped to succeed in a vastly diverse workforce.
___
About YW Boston
As the first YWCA in the nation, YW Boston has been at the forefront of advancing equity for over 150 years. Through our DE&I services—InclusionBoston and LeadBoston—as well as our advocacy work and youth programming, we help individuals and organizations change policies, practices, attitudes, and behaviors with a goal of creating more inclusive environments where women, people of color, and especially women of color can succeed.
As part of that work, we are helping organizations prioritize Diversity, Equity & Inclusion and become socially connected while staying physically distant. During this time, YW Boston is providing organizations with digital workshops and resources to help them better understand the challenges faced by their employees. For more information, please contact Sheera Bornstein at sheera@ywboston.org.