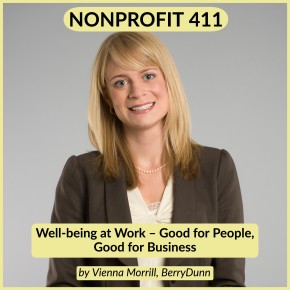 By Vienna Morrill, Management Consultant, BerryDunn
Our position as leaders in nonprofit audit, tax, and consulting has given us insight into many different work environments. We know (and the research shows) that a positive workplace culture makes a big difference when it comes to the success of our clients – particularly in their ability to attract, retain, and bring out the very best in their talent. One of the most meaningful ways to cultivate a positive workplace culture is to create an environment that places a strong emphasis on supporting individual well-being and human connection.
Well-being and the workplace
Well-being is how we feel about our lives. It's often a reflection of the quality of our relationships, our positive emotions, the realization of our potential, and overall satisfaction with life (learn more from the CDC). The work environment, including the people, policies, built environment (physical and virtual), and nature of work itself, has a significant influence on our well-being.
Most mid- to large-size organizations offer some type of wellness program. These programs tend to focus on physical and mental health and are often viewed as a set of resources and benefits to be used outside of work or when workloads allow. At best, these programs boost satisfaction among employees who already have healthy habits and inspire some positive behavior change among those who are looking to improve. At worst, these programs can be viewed as non-inclusive and even punitive for those who may be struggling with their personal well-being.
The most effective well-being programs meet employees where they are in their own well-being journeys. These programs are multi-dimensional – often encompassing mental, social, financial, career, and physical well-being. They also put a great deal of emphasis on how the work environment (people, processes, systems) supports and encourages well-being.
An effective well-being program makes a variety of resources and tools available to your employees while also building a culture of support – saying we trust you to know what's best for you at this stage in life and are here to support you should you need it. This is a much more effective approach for cultivating a positive culture and supporting long-term healthy behavior change.
What are some special wellbeing considerations for non-profits?
Research suggests that sense of purpose may be the most important aspect of employee well-being. Nonprofits are inherently mission-driven and purpose is already "baked in" to the work environment. As you consider your workforce, be mindful of understanding people's strengths and finding ways to align those strengths not only with a job task, but directly with the mission of your organization. Consider providing opportunities for managers to work with employees on "job crafting" – which means empowering employees to redesign parts of their jobs by actively changing their tasks and interactions with others at work.
As a nonprofit organization, you may not be able to offer as competitive of compensation as other organizations. The good news is that today's employees are generally more motivated by the opportunity to grow, contribute value, and maintain their definition of work-life balance. Fair and livable wages are, of course, essential – but when it comes to recruiting and retaining staff your best bet may be to focus on cultivating an environment where people feel they can thrive both personally and professionally.
To learn more about how to develop a culture of well-being at your organization, please contact Vienna Morrill at vmorrill@berrydunn.com.