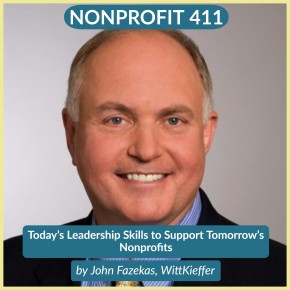 By John Fazekas, WittKieffer
Today's nonprofits need leaders with more to offer than passion for the mission. They need executives who can build a brand, differentiate the organization from competitors and guide it to sustainability. Clarity on strategic priorities and proof of impact have risen to the top of organizations' priority lists, with substantiated results expected of top nonprofit executives. In an effort to identify their next leader, organizations are prioritizing the following as essential skills and competencies:
Fundraising, Fundraising and More Fundraising: Many organizations require that their new leader demonstrate an ability to identify and tap new sources of revenue as part of a larger fundraising strategy. Whether donations, grants, corporate alliances or programmatic partnerships, CEO and executive director candidates must have an acute ability for accessing funding alternatives.
Partnering/Building Alliances: Nonprofits are looking for leaders with an entrepreneurial spirit who can identify partnerships with other entities in the community, and use these partnerships to do more for the population by offering complementary services.
Strategic Program Leadership/Performance Metrics: Wise spending, a pragmatic review of programs and using hard data to demonstrate actual impact and effectiveness of programs and services are all points of emphasis in the recruitment of new executives. Today's leaders are expected to introduce innovations, design and implement comprehensive performance metrics, and be willing to cut ineffective and inefficient programs.
Social Media/Brand Building: Organizations want leaders who know how to build brands. There is no single media or social media tool that is a must-have, but today's nonprofit leaders must know how to appeal to a new generation of supporters in a manner to which they will respond and share the organization's story with others.
Subject Matter Knowledge: Organizations are looking for candidates who truly know the landscape and the key players (returning somewhat to earlier times in the nonprofit industry). This refers in particular to candidates who come from the for-profit sector with impressive resumes, but still must show familiarity with the organization and its environment.
Ability to Demonstrate Credibility, Quickly: Nonprofits look for new executives who will take time to learn the history and culture of an organization. Conversely, a new leader must quickly identify what can and should be done, and display calculated decisiveness. "Slash and burn" is by no means the right course, but changes made early in a new leader's tenure will confirm the right hire was made.
About the Author
With 25 years of executive search experience, John Fazekas works with colleagues in WittKieffer's Not-for-Profit and Healthcare practices to identify outstanding leaders for clients' specific cultures and strategic needs. He has led and supported a range of engagements for CEOs/presidents, executive directors, COOs, CFOs and other key senior roles. Based in the firm's Boston office, John's clients include foundations and trusts, major civic and cultural organizations, hospitals, health systems, community health centers, disease-based associations and research institutes, and many other mission-driven organizations.