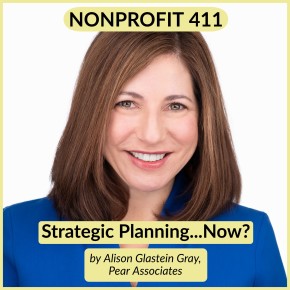 By Alison Glisten Gray, Pear Associates
When COVID-19 entered our lives, many of us reacted with panic and uncertainty. Immediately, nonprofit organizations were faced with some big questions: How will this shift from the business-as-usual impact our clients, our employees, our donors? Will we still be able to deliver quality programs and services? How will this impact our bottom line? All of these are legitimate questions nonprofits are asking themselves, and the answers have resulted in a significant shift in the way many organizations are now operating and delivering services.
I would suggest this is also the time to consider some new questions: what can we learn about how we develop and deliver services? How can this situation make us more efficient and more effective? Can we be more strategic about the ways we meet our greatest community needs?
Right before the COVID-19 pandemic, I worked with English at Large of Woburn to create a strategic plan. According to Maureen Willis, Executive Director, "this helped put us in a position of strength as we plan for the impact of the pandemic. The process brought clarity to our strengths and priorities and gave us a strong vision for what we want to achieve in the future."
Perhaps the idea of embarking on a strategic planning process amid such ambiguity about our economic and social future seems futile. However, this may just be the perfect time to prioritize how your organization will have the greatest impact. As my client, Lara Quiroga, Director of Strategic Initiatives for Children at Amoskeag Health in Manchester, NH, says "now is the right time to focus on strategic planning, for both the short and long-term…this has helped provide clarity on the work that needs to happen, especially during a time of crisis when it's difficult to focus on the future and easy to mission-drift."
For those who have strategic plans in place, I encourage you to review your goals and objectives for the coming year and make the changes now to reflect how you want to deliver quality services after the crisis is over. If you are considering embarking on a planning process, I suggest you revisit the mission and vision of your organization and let that guide your future. Use this time to explore how you can innovate and be creative as you respond to the current landscape and changing future. Working with your Board and staff to create a clear path forward could be one positive outcome for your organization in this challenging time.
At the beginning of 2020, before COVID was part of our daily vocabulary, I worked with the National Ice Cream Retailers Association (NICRA) to create a 12-month action plan while they were experiencing incredible growth. NICRA's Executive Director, Steve Christensen, asserts, "having a plan… allowed us to continue on our planned path without being distracted by media reports and many other influences."
He also shares, "COVID-19 took us off our strategic plan highway a little, but we knew exactly how to get back in on the on-ramp to pick up where we left off." 
With some thoughtful planning, your organization can also be successful in staying on track to meet community needs while adjusting to unexpected change.